Pastor With 3 Gay Parents: 'There Is a Difference Between Acceptance and Approval'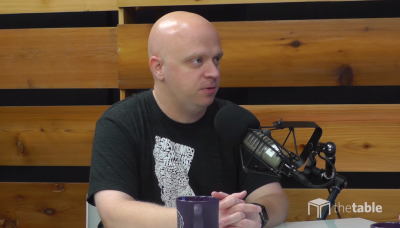 A California-based pastor, who has had three gay parents over the course of his life, stated that "there is a difference between acceptance and approval."
Caleb Kaltenbach, lead pastor for Discovery Church of Simi Valley, was recently interviewed by Dallas Theological Seminary Professor Darrell Bock on the school's podcast The Table.
During the podcast, Kaltenbach explained that he believed that "acceptance and approval" were not the same thing, including when it came to the debate on LGBT issues.
"I believe that we are called to accept everybody as an individual. That does not mean we approve of every life choice that somebody makes," said Kaltenbach.
"Every Sunday, anybody should be able to walk through my church doors when I preach and attend our church. But I already know that I shake hands every Sunday with people that have made life choices that week that I wouldn't approve of. But that doesn't mean that I accept them any less."
Kaltenbach also said on the podcast that Christians need to do a better job of engaging the culture of others, including the LGBT community.
"If a missionary goes overseas and is gonna share the Gospel with a particular culture, they have to do contextualization. They have to learn culture," continued Kaltenbach.
"They have to engage culture — not as a means to water down the Gospel, but as a means to use culture as a vessel to share the Gospel, to communicate it. And I think that a lot of Christians are not, for one reason or another, willing to do that when it comes to certain people, including the LGBT community."
When Kaltenbach was 2 years old, his opposite sex parents both came out as gay and divorced. He was later raised by his mother and her lesbian lover.
Growing up, Kaltenbach attended many LGBT Pride events during the 1980s, and experienced homophobic rhetoric and hostility from Christian protesters.
"I remember at the end of one of these pride parades — and again, this is in the 1980s — there were all these Christians holding up signs saying, 'God hates you. Go away. Turn or burn.' And if that wasn't offensive enough, they were spraying water and urine on people," recalled Kaltenbach. 
"You felt real hostility. And you saw what we might, in some cases, call the worst of people," noted Bock during the podcast. "[You were] on the receiving end from Christians who ... are hostile towards the gay lifestyle."
Kaltenbach became a Christian while in high school after being invited to a student-led Bible study, which he originally planned to attend as a way to attack their beliefs. 
"I just kept on going back, and I just found that Jesus was not like the people on the street corners. The Apostle Paul was not like the people on the street corners holding up the signs," explained Kaltenbach. 
"I had also reached a conclusion, the conclusion I still hold today, that God designed sexual intimacy to be expressed in the context of marriage between one man and one woman."
He likened his experience of revealing his conversion to his parents to that of a teenager coming out as gay to his Chrstian parents.
"I was a teenager coming out as a Christian to my three parents," he said. "The rejection that they feared from the Christian community and the rejection that they feared from me now that I was 'one of them, they, those, those people,' that's the same rejection they gave to me. The same rejection they were fighting to say that we need to not exhibit they were exhibiting because this is such an emotionally charged topic."
He documented this spiritual change and the need for better dialogue between the church and the LGBT community in his 2015 book Messy Grace: How a Pastor With Gay Parents Learned to Love Others Without Sacrificing Conviction.
"Very few issues in Christianity are as divisive as the acceptance of the LGBT community in the church. As a pastor and as a person with beloved family members living a gay lifestyle, Caleb had to face this issue with courage and grace," notes the book's Amazon description.
"Messy Grace shows us that Jesus's command to 'love your neighbor as yourself' doesn't have an exception clause for a gay 'neighbor'—or for that matter, any other 'neighbor' we might find it hard to relate to. Jesus was able to love these people and yet still hold on to his beliefs. So can you."