Pastor's Wife Admits Wedding Day Sex Was Bad But Says Sex Will Only Get Better in Marriage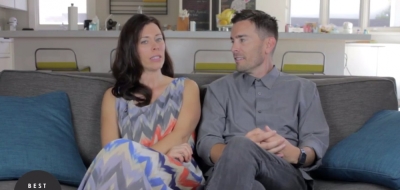 Warning: Content may not be suitable for children
Jeanette Gross admits sex on her wedding day wasn't great, though her husband may differ. The couple had remained abstinent until marriage as Christians. So to go from being told "no sex" to suddenly being able to have sex, it made for an awkward experience and less than great sex.
Gross believes that's the case for many Christians on their wedding night and during their honeymoon. But she and her husband, Craig, want believers to know that sex will only get better and that Christians should be having the best sex ever.
"I grew up in church. I was a virgin and [you're told] 'you can't have sex.' So then one day at 22, I could have sex (on wedding day) and so yeah, 3:30 in the afternoon we're going to have sex," Craig Gross, founder of xxxchurch.com, says in the first session of their newly released video series "Best Sex Life Now."
"It's that switch in your mind that turns from one thing being bad to one thing being good but I never thought about it that way that 'no, this isn't going to be great or as good as it is 16 years later," he continues. "Think about it … you don't know what you're doing … sure, the parts align so it's not that complicated … but just the fact that we never experienced that intimacy with each other …"
The Grosses say that compared to their wedding day, their sex life and level of intimacy now are great and it should be the same for other Christians.
"The world just says the opposite - doesn't it (monogamous sex) get boring or doesn't it get routine?" Craig Gross notes. "No, as your relationship grows and as you grow more in love with each other, I believe your sex should be getting better and better and better … it's only going to get better as you practice."
Speaking from their California home, the Grosses are trying to encourage Christians to have great sex and also address the matter more practically in their 10-part video series.
They even answer the question "how do you know when it's good?"
Jeanette says, "I would say it's when both people have an orgasm."
Craig chimes in, stating, "Great sex is when you both approach sex for what the other needs, not just what you need."
For married couples who say they have never had an orgasm or don't enjoy sex, Craig believes they're not "fully embracing" it.
"This is a physical act but it's also spiritual," he states. "It's the most intimate act you're going to be doing together."
He advises married couples to practice more so that they can make their sex life great.
"This would be work but it is probably the best kind of work … it's fun work," he adds.
The Grosses are joined in their video series by Dave and Ashley Willis of Georgia who also share sex advice.
"God created sex," Dave Willis, founder of StrongerMarriages.org, says in the same session. "He created it to be something that is even more beautiful than probably the greatest vision you have in your mind.
"The world puts a lot of fakes out there … fantasy through porn, through erotica, even these romance novels … Don't settle for the fake stuff but invest in that intimacy that you have with your one and only love."
The Willises have three boys and another child on the way and even though they're often exhausted or pressed for time, they say couples must make time for sex, which they call a "powerful gift" from God.
Practically speaking, while men may easily transition out of the daily grind to sex, women require more time, Ashley Willis notes.
"If my house is a complete mess or … it's been a stressful day at work, or if I feel like there's something in my relationship with Dave that we haven't worked out, then it's like there's too much taking up the capacity of my mind for sex to be at the forefront," she explains.
"I think as men, as husbands, if you can do anything you can to help your wife be relieved of some of that stress and those distractions then you're going to get more of what you want."
The "Best Sex Life Now" video series is available at http://www.bestsexlifenow.com/.