Pat Robertson Criticized for Suggesting Homosexuals Can Change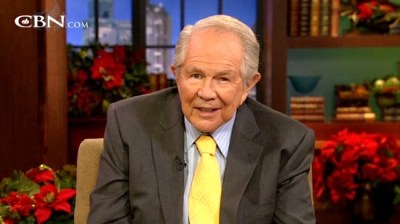 Pat Robertson, often criticized for his sometimes controversial viewpoints and seemingly off-the-cuff comments, has ruffled more feathers with his suggestion to a Christian father that his son was not born gay and could be free of homosexuality.
Robertson's statements came during the "Bring It On" segment of Wednesday's airing of the "The 700 Club," in which co-host Kristi Watts read questions from viewers of the program.
One of the three questions aired was from a father concerned with his son's sexuality (at the four-minute mark in the video below): "How do you show your gay son the love of Jesus when you know his sexual preference is an abomination to God?"
Roberton responded: "You know they say you love the sinner, hate the sin? But what I think you gotta do is love him. You're his father and you want to say, 'Look, I don't agree with what you're doing.You're my son, you came from my body. You're part of me. I'm with you, but I'd like you to get out of this.' "
He went on to comment on the debate of whether homosexuals are "born that way" or if it is an acquired behavior.
"I think a lot of it is acquired. I don't know all the genes or the genetics that's in your son as to what's causing him to do whatever he's doing ... but normally speaking, a person who has acquired this can un-acquire it."
The Christian Broadcasting Network (CBN) chairman and Southern Baptist noted that "many people have left the homosexual lifestyle and gone into a heterosexual relationship and were very happy."
Robertson emphasized, "Love the son, love the son. And show him what you consider a better way."
Reaction to Robertson's denial that homosexuality is natural included accusations of bigotry as well as claims that the evangelist had suggested "forced" ex-gay conversion, or reparative therapy in his advice to the concerned father.
Robertson has previously been vocal about homosexuality, which Christians believe the Bible classifies as sin.
Most recently, he addressed President Barack Obama's promotion of a lesbian, gay, bisexual, and transgender (LGBT) international initiative with U.S. tax dollars.
"Isn't it appalling that the United States of America would try to force the acceptance of homosexuality on other nations but at the same time we would not force them to take care of their religious minorities and they would permit discrimination and persecution of Christians?" Robertson said at the time.