Pat Robertson Slams 'SNL' for 'Anti-Christian Bigotry' in Tebow Skit (VIDEO)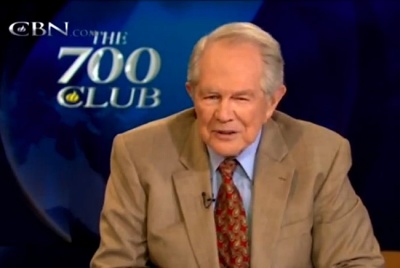 Pat Robertson, host of "The 700 Club," has spoken out on behalf of Denver Broncos quarterback Tim Tebow, slamming NBC's "Saturday Night Live" for mocking the Christian athlete's show of faith on the football field.
Tebow has become somewhat of a favorite with Christians for his open display of faith during games. Although the Broncos have impressed observers with "miraculous" wins, sports analysts agree – Tebow's game could use some improvement. What's more, the star quarterback has inspired people around the world to mimick, and capitalize on, his popular prayer pose, known as "Tebowing." However, not everyone is a fan of the Broncos quarterback, and many have expressed irritation with his open display of faith. 
Robertson commented on the Tebow phenomenon during a broadcast of "The 700 Club" on his Christian Broadcasting Network (CBN), after the following inquiry from an anonymous viewer was read out loud:
"I don't understand why there is such a public outcry because of Tim Tebow projecting his faith. Does disaster have to strike for people to acknowledge God?"
In response, Robertson praised the player's faithful behavior.
"Tebow is an example, and I think he is a wonderful human being," Robertson said. "He prays and seeks God. I think we have to applaud it. We need more religious faith in our society. We're losing our moral compass in our nation and this man has been placed in a unique position and I applaud him. God bless him."
The televangelist then attacked NBC's "Saturday Night Live" Dec. 17 skit, in which Tebow and Jesus meet. The setting of the skit is the Broncos locker room, after another "miraculously" won game, and the actor portraying Tebow is seen doing his famed "Tebowing" prayer pose. The gist of the skit is that Tebow's constant display of his faith is a irritating to a lot of people, including Jesus, played by "SNL" veteran Jason Sudeikis.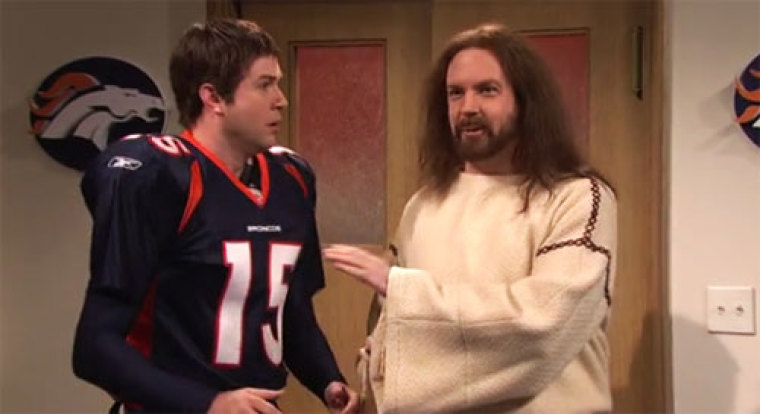 The sketch also makes fun of Tebow's abilities as a player, suggesting that the only reason the team has been winning is due to the quarterback's praying abilities.
"Here's the thing, okay. If we're going to keep doing this, you guys gotta meet me halfway out there. I mean, let's face it, it's not a good week if every week I, the Son of God, have to come in, drop everything, and bail out the Denver Broncos in the fourth quarter, okay. I'm a busy guy," the Jesus character says on the show.
Robertson expressed outraged over the mock-Jesus figure.
"If this had been in a Muslim country and they had done that, and had Muhammad doing that stuff, you would have found bombs being thrown off!" Robertson suggested.
"And bodies on the street!" interjected his co-anchor, Terry Meeuwsen.
"And bodies on the street!" Robertson repeated. "But we think it's okay."
Robertson added that there is an "anti-Christian bigotry that is just disgusting."
The "Saturday Night Live" skit evoked mixed emotions among the Christian community online, with some taking offense, and others laughing it off.