Pat Robertson's Regent University Partners With TD Jakes for Education Initiative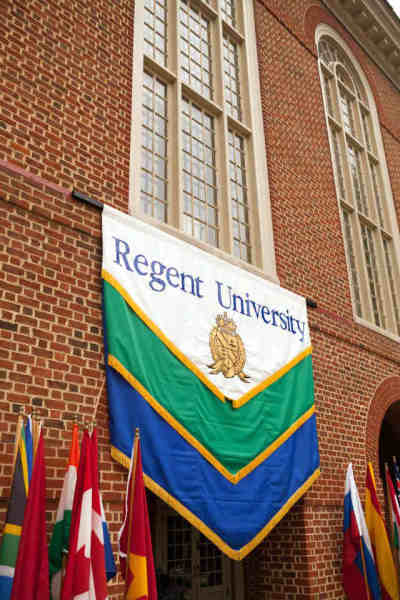 Pat Robertson's Regent University has announced a partnership with Bishop T.D. Jakes of The Potter's House to provide educational tools and resources for leaders from all fields looking to take their careers and skills to the next level.
The partnership, announced this week through TDJ Enterprises, Bishop Jakes' for-profit organization whose stated mission is to "entertain, educate and empower mainstream audiences with practical expressions of God's grace and love," brings Regent University certification to courses provided by the T.D. Jakes School of Leadership. The collaboration also opens the private interdenominational Christian university's online courses to The Potter's House network.
"Regent University provides world-class Christian educational resources to complement our premiere conferences, seminars and other content delivery systems," Jakes, CEO of TDJ Enterprises, said in a statement. "This collaboration offers our faith-centric audiences a gateway to professional learning tools that advance the work of the ministry while also supporting those laymen looking to enhance their corporate leadership and entrepreneurial credentials."
According to the T.D. Jakes School of Leadership, the professional and continuing education certificate programs are tailored "for industry professionals, emerging leaders, knowledge workers in transition or retirees desiring to chart the course for the next phase."
The certificate programs, which include a Master's track, are varied, with areas of study including entrepreneurship, project management, global leadership, pastoral counseling, sustainable and environmental leadership, healthcare management and many others. Jakes' partnership with Regent will also see the megachurch pastor take on a Distinguished Visiting Lecturer role as he makes on-campus visits to the Virginia Beach, Va., university for "intensive leadership programs and activities."
"What a privilege for Regent University to join with The Potter's House and TDJ Enterprises," Regent President Dr. Carlos Campo stated. "This relationship with T.D. Jakes provides us with an incredible opportunity to powerfully connect with a broad-based international community, and we look forward to working together on many projects."
Regent, founded in 1978 by Christian Broadcasting Network chairman and university chancellor Pat Robertson, has more than 5,800 students enrolled globally and counts itself as "one of the nation's leading academic centers for Christian thought and action."
The Potter's House, a nondenominational church founded in 1996 by Bishop Jakes and located in Dallas, Texas, is home to 30,000 members.