'Dystopian': Doctor says patient with 'high chance of cure' chose assisted suicide over treatment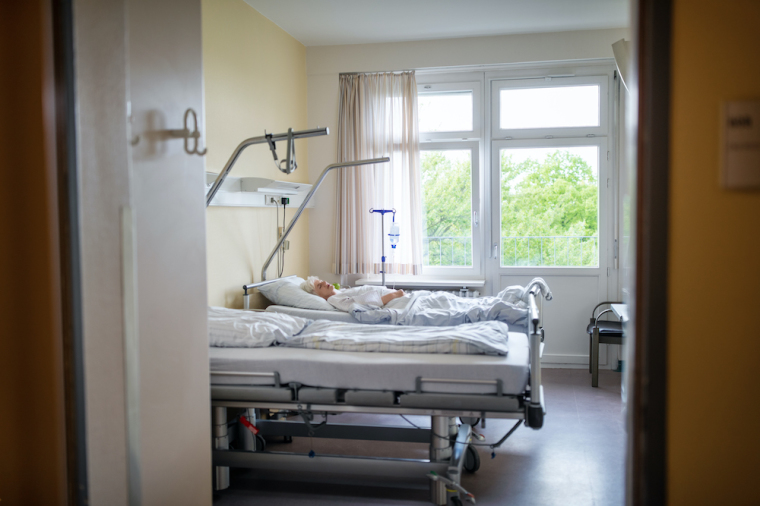 A doctor who oversaw hundreds of patients looking to hasten their deaths through Canada's Medical Assistance in Dying Program (MAID), including a cancer patient with a 65% chance of a cure, worries that the program has gone too far and is "missing fundamental safeguards for vulnerable people."
In a recent op-ed published by the Canadian magazine Maclean's, MAID provider Dr. Madeline Li stressed that she doesn't believe the assisted suicide program, which has been expanded over the years, should be offered to the mentally ill or patients with curable conditions who refuse treatment. She called it the "medicalization of suffering." 
Li, the head of the University of Health Network's MAID framework in Toronto since 2016, said, "Society needs to agree on what types of suffering are appropriate to respond to with MAID."
"If someone is suffering primarily because they can't afford housing rather than directly from a qualifying medical condition, do we think that death is the appropriate solution for that?" she asked.
"If your suffering is because you can't afford your medication, or other structural vulnerabilities only indirectly related to a medical condition, is that a good reason for MAID?"
Li recalled a case involving a cancer patient with a 65% chance of a cure. The patient refused treatment, and MAID assessors agreed he met the eligibility criteria just because he declined care and had a "grievous and irremediable condition."
"[I]t was irremediable because they didn't want the treatments available. That's what the law currently states: as long as the patient doesn't want the treatment, their condition is considered irremediable — even if there are effective treatments," she wrote.
"But not treating a cancer with such a high chance of cure goes against medical practice standards. The doctors involved had a lot of moral distress about this person's request for MAID. This person signed consent for me to share their story, but I feel differently about it than they did. They saw it as an expression of their autonomy; I saw it as dystopian."
Canada legalized physician-assisted suicide in 2016, limiting it to citizens or permanent residents who were at least 18 years old and had "a serious and incurable disease, illness or disability" that included "enduring and intolerable suffering."
In 2021, Canadian Parliament expanded the law to include serious and chronic physical conditions.
The Canadian Department of Justice announced in December intentions to extend MAID eligibility to individuals whose sole medical condition is mental illness on March 17, 2023. However, those plans have been put on hold until 2024. 
"It is clear more time is needed to get this right," Justice Minister David Lametti said Thursday, according to CBC. "The proposed one-year expansion is necessary to ensure that we move forward on this sensitive and complex issue in a prudent and measured way. It will provide time to help provincial and territorial partners and the medical and nursing communities to prepare to deliver MAID in these circumstances."
Regardless of her misgivings about the scope of the MAID program, Li promised to do what the "public mandate demands."
As the law has expanded over the years, Li argues that MAID is missing "crucial safeguards for patients" by no longer limiting it to people whose deaths are "reasonably foreseeable."
She criticized the law for not requiring a clinician to see patients and discuss potential issues causing them to seek MAID.
"The MAID track for people without a terminal illness stipulates that the clinician must have 'discussed with the person the reasonable and available means to relieve the person's suffering, and agree that the person has given serious consideration to those means,'" Li wrote. 
"I don't think that's sufficient. It should say something like 'the clinician has to agree that there have been reasonable attempts at treatment,'" the doctor continued. "The practice guidelines and training will suggest this, but they are optional recommendations, and different jurisdictions and providers will adopt them unevenly." 
According to a CTV News Nanos poll released last August, 62% of Canadians agree or somewhat agree that people who are being treated for mental illness should be eligible for MAID. 
Dr. Ellen Wiebe believes that both mental and physical illness cause "unbearable suffering." The doctor has assisted over 400 people with hastening their deaths via the MAID program.
She told CTV W5 that more than 1,700 Canadian doctors and nurse practitioners have experience assessing patients seeking MAID for physical illnesses, arguing that the questions for mentally ill patients will likely be the same. 
"Do they understand their disease? Do they understand the prognosis? Do they understand their choices?" she asked.
"If you are suffering unbearably, you've got the right to say, 'I've had enough,' and you'll go through a process with safeguards," Wiebe continued. 
She cited 81-year-old John Scully as an example of a patient she believes will benefit from the MAID expansion. Scully is a retired journalist and father who has already submitted paperwork to legally end his life and is waiting for the Canadian government to expand the MAID law. 
The former reporter has struggled with depression, anxiety, suicidal thoughts and post-traumatic stress disorder for 35 years. He told the outlet that he had attempted suicide twice and now seeking MAID to ensure he succeeds this time. 
Scully's two children and wife of 57 years have given him their approval to preemptively end his life through MAID. 
Wiebe said that healthcare professionals who provide MAID for physical illnesses determine a patient's eligibility by reviewing past treatments the patient has undergone, deciding whether they've sought enough alternatives before seeking MAID. 
Wiebe also acknowledged weaknesses in Canada's ability to provide mental healthcare, expressing a desire to improve the system. 
According to the Canadian Mental Health Association, 70% to 90% of people struggling with severe mental illness in Canada are unemployed. 
A report released in May 2021 by the Canadian Institute for Health Information found that from 2019 to 2020, half of Canadians waited up to a month for ongoing counseling services, while one in 10 waited four months. 
Earlier this month, CP reported on Tyler Dunlop, 37, a healthy, able-bodied man struggling with homelessness who recently began the MAID process.
In an interview with Orillia Matters, Dunlop said he refused the hospital's offer to admit him for a psychiatric assessment and offers of food, water and shelter to prove that he was serious about the decision. 
"I looked at my future, and I said, 'What am I going to be in the next 10 years?' Same thing: wandering around homeless," Dunlop stated.
According to Dunlop, the rising housing costs and inflation have solidified his decision. 
"If I can help people, well, that's good enough reason to stay, but I feel useless," Dunlop said. "That's why I want to do this: I'm hurting people. I'm hurting myself. I'm hurting society."