Republican Party Divide Really About Tactics, Not Principles, Rep. Paul Ryan Says
Paul Ryan, Ted Cruz, Chris Christie, Mike Lee Call for Positive Agenda at CPAC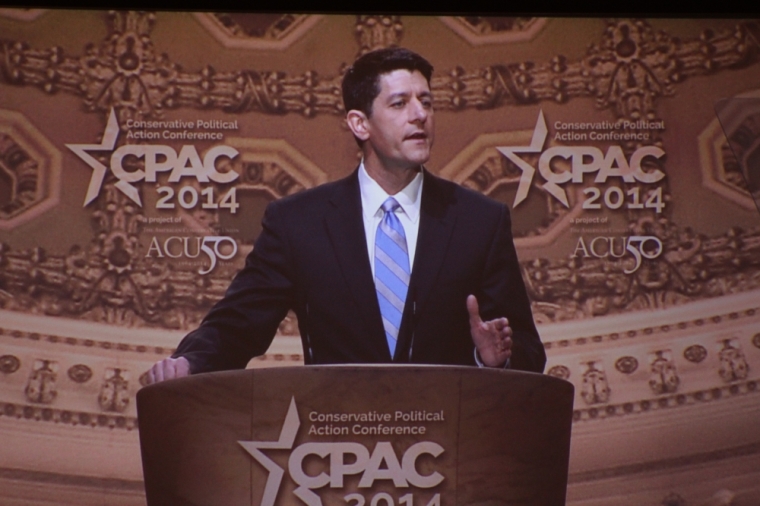 NATIONAL HARBOR, Md. — Congressman Paul Ryan (R-Wisc.) declared that the Republican Party is fundamentally united and the apparent chasms are actually only slight disagreements about tactics. He and two conservative Senators hailed the new ideas in the GOP as a positive platform for the future.
"I don't see this great divide in our party, what I see is a vibrant debate," Ryan declared at the Conservative Political Action Conference (CPAC) on Thursday. He argued that the disagreements between Tea Party supporters, "the establishment," libertarians, and social conservatives, are "disagreements not over policies or principles, but over tactics."
"I'm Irish, that's my idea of a family reunion!" the Congressman quipped. Ryan discussed these internal struggles as creative tension, strengthening the conservative movement.
A conservative modern reform agenda is now taking shape, Ryan declared. He mentioned Senator Tim Scott (R-S.C.), who responded to the Democrat's call for fixing income inequality by presenting school choice. "Sure, let's make things a little more equal, let's let every parent choose where their child goes to school!"
Ryan praised Senator Mike Lee's proposal to give states more control over highways, Senator Marco Rubio's proposal to "repair our safety net," and Congressman Dave Camp's push to lower tax rates for businesses and families. "Right now, the tax code is ten times the size of the Bible and has none of the good news!" Ryan quipped, to loud laughter and applause.
"Consider Obamacare, the way the President talks, you'd think there's no alternative, but we've got plenty!" Ryan argued. He mentioned numerous proposals, one from Congressman Phil Roe (R-M.D.) and another from Congressman Dave Camp (R-Mich.). Without delving into the differences, Ryan declared the overall message is clear — "We believe you should pick your healthcare plan, not Washington!"
Overall, Ryan declared that the Republican Party is the party of ideas, while the Democrats are out of ideas and out of touch. "The Left is offering a full stomach and an empty soul," he proclaimed.
Senator Mike Lee (R-Utah) agreed with Ryan and called for Republicans to develop new solutions to national problems. "President Obama and the Democrats have done everything they can to deserve defeat, but the Republicans have not done everything we can to deserve victory," Lee warned.
Nevertheless, he argued that "a new generation of conservative leaders" is already developing the solutions to America's most fundamental problems. "Leaders like my friends Senators Ted Cruz, Rand Paul, Marco Rubio, John Cornyn, and congressmen like Mike Pompeo, Jim Jordan, Joe Hensarling, Steve Scalise, and Paul Ryan, among others, are developing policies that, taken together, are developing a new conservative reform agenda," Lee declared. This agenda will clarify and unify Republicans, he added.
Lee argued that the fundamental challenge the U.S. faces is "America's opportunity deficit." He denounced the Democratic focus on income inequality as a distraction from the real issue. The "real problem of inequality," he explained, is "not the income gap between the rich and the poor but the opportunity gap between Washington, D.C. and everybody else."
"It's time for the Republican Party to stop talking about Ronald Reagan and start acting like him," developing new solutions to America's problems, Lee concluded.
This theme was echoed by N.J. Gov. Chris Christie (R). Republicans need "to start talking about what were for, not what we're against," he urged, because "our ideas are better than their ideas."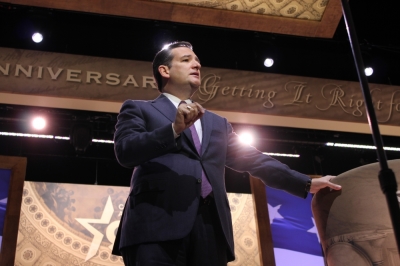 Senator Ted Cruz (R-Texas) also attacked the corruption in Washington as a fundamental issue for the Republican Party. Due to Washington connections, Cruz argued, "Wall Street prospers and main street suffers, young people suffer, Hispanics suffer, African Americans suffer, single moms suffer." He declared that the way Republicans will win elections is by emphasizing the contrast between "corrupt Washington and the American people. We stand with the American people."
"We stand with a straightforward and bold positive agenda to inspire young people, to inspire women, to inspire Hispanics, to inspire everbody!" Cruz declared. He laid out this agenda as: defending the Constitution, a fair flat tax, school choice, auditing the Federal Reserve, a strong balanced budget amendment, the repeal of Obamacare, and a lifelong ban on lobbying for congressmen and senators.
When Cruz asked the crowd if Republicans can repeal Obamacare, a voice responded "Yes We Can!" Cruz quipped "along with hope and change, that's pretty good!"