Paula Deen Breaks Down on Today Show, 'I Would Not Have Fired Me'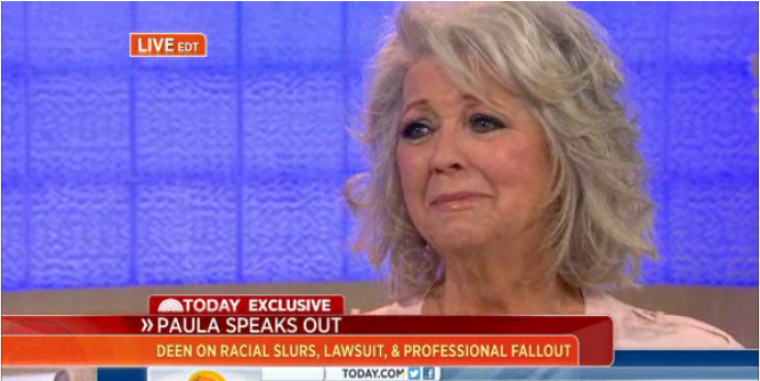 In a tearful interview with Matt Lauer on the "Today" show Wednesday morning, embattled celebrity chef and TV personality Paula Deen swore that the only people she doesn't like are "thiefs" and liars and was raised to treat all people equally.
"I tell you and everyone out there what I believe and how I live my life. I believe that every creature on this earth, every one of God's creatures, was created equal no matter who you choose to go to bed at night with. No matter what church you go to pray," said Deen whose views on racial equality have come under harsh scrutiny after she was fired from the Food Network last week for admitting to using racist remarks in the past.
"I believe that everyone should be treated equal and that's the way I was raised and that's the way I live my life," said Deen.
Deen told the "Today" host that she cancelled an interview with him last week because she was shocked and overwhelmed by the accusations that she is a racist and she was still in disbelief because that's not how she was raised.
When Lauer asked her bluntly if she was a racist, Deen replied, "no."
"As a child I was raised in a home that my father tolerated bad grades, he would tolerate maybe me breaking a curfew, but he told me, he said, 'girl, if I ever find out that you have behaved in a way where you think you're better than others or have been unkind, your butt is going to be mine.'"
Deen also noted that she would not have made the same employment decisions taken by companies that have distanced themselves from her since the controversy erupted.
"Would I have fired me, knowing me, no. I'm very lucky in this aspect, Matt. I'm so fortunate that so many of my partners that know who I am have decided to stand by me. QVC has not dropped me," said Deen.
When Lauer questioned the sincerity of her apology for using the N-word, which she says only happened one time while she was being held at gunpoint, she said she was "heartbroken" by the allegations against her.
"No. No. What you see is what you get. I'm not an actress. I'm heart broken," said Deen tearing up.
"I've had to hold friends in my arms while they sobbed because they know what's being said about me is not true. And I'm having to comfort them and tell them it's going to be all right," said Deen.
"If God got us to it, he'll get us through it. I've had wonderful support from Reverend (Jessie) Jackson. I've had wonderful support and I tell you what, if there's anyone out there that has never said something that they wish they could take back. If you're out there, please pick up that stone and throw it so hard at my head that it kills me," said Deen.
"Please. I want to meet you. I want to meet you. I is what I is and I'm not changing. And -- there's someone evil out there that saw what I had worked for and they wanted it," she added.