Pentagon Could 'Reconsider' Obama's Transgender Policy, Ex-DoD Official Says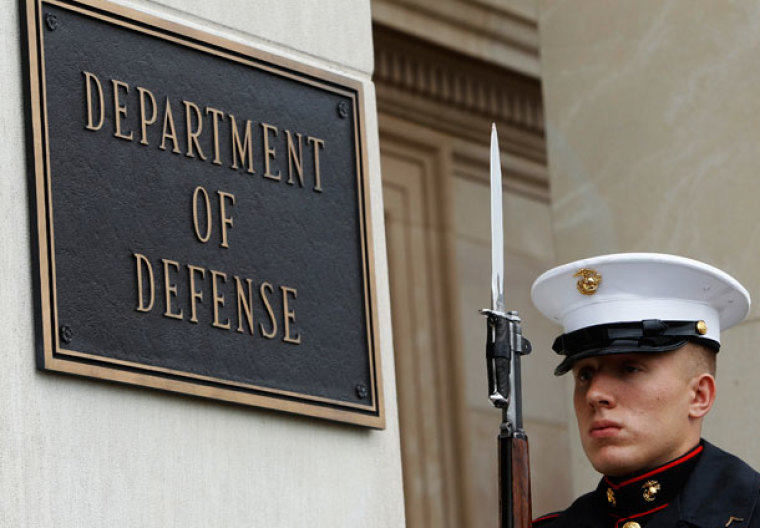 At least one former Obama administration official is concerned that a recent memo sent out by a top Pentagon official leaves open the possibility that the armed services could reconsider an Obama-era policy forcing them to accept transgender recruits.
USA Today reports that top officials in each branch of the armed services were instructed earlier this month to assess their "readiness to begin accepting transgender applicants on July 1, 2017." The instruction comes in the form of a May 8 memo sent out by Deputy Defense Secretary Robert Work.
The memo comes after the Pentagon's ban on transgender troops was rescinded last June under a policy enacted by President Barack Obama's Sec. of Defense Ash Carter that also requires the Military Health System to pay for transgender health services, such as reassignment surgeries, if deemed "medically necessary."
The service secretaries and chiefs have until May 31 to turn in their assessments.
According to USA Today, which obtained a copy of the memo, some of the language in the document concerns former Obama administration Pentagon official, Brad Carson, who pushed for the end to the ban on transgender troops.
Work states in the memo that the Pentagon does not "intend to reconsider" the Obama-era transgender policies "unless they cause readiness problems that could lessen our ability to fight, survive and win on the battlefield."
"The personnel policies of this department are designed to enhance the warfighting readiness and lethality of the force that protects our country," the May 8 memo states. "We do not intend to reconsider prior decisions unless they cause readiness problems that could lessen our ability to fight, survive and win on the battlefield."
USA Today reports that Carson, who served as acting under secretary of defense for personnel and readiness from 2015-2016, interpreted the language in Work's memo as leaving the door open for the armed services to back out of recruiting transgender troops if they raise issues with how allowing transgender troops could affect "readiness for combat."
"This could be seen as an opportunity to reconsider the policy," Carson explained. "It is certainly possible, and it would invite litigation. I do have full confidence in [Defense Secretary] Jim Mattis to do the right thing here."
The Pentagon press office offered a brief comment on the memo, while Work declined to comment for the USA Today article.
"The Secretary [Mattis] is awaiting the input of Services on May 31. When he receives that input he will make decisions based on readiness needs," the Pentagon statement reads.
Conservative critics of Carter's move to rescind the ban on transgender troops have claimed that it would greatly reduce readiness.
"For the Department of Defense to focus on a tiny, tiny, minority and disregard the concerns of the majority of people in the armed forces is more than irresponsible," Center for Military Readiness President Elaine Donnelly said in an interview with WND last year. The secretary of defense is instituting a policy that will encourage indiscipline and sexual tension and a range of problems that have nothing to do with strengthening the Armed Forces. There's no excuse for it."
During his confirmation hearing in January, Mattis was pressed on the topic of LGBT people in the military and women serving combat roles by Sen. Kristen Gillibrand, D-N.Y. Aspects of Mattis' response sound similar to language in Work's memo.
"Senator, my belief is that we have to stay focused on a military that's so lethal that on the battlefield it will be the enemy's longest day and their worst day when they run into that force," he stated, adding that "military service is a touchstone for patriots of whatever stripe."
"And I believe that right now the policies that are in effect, unless a service chief brings something to me where there's been a problem that's been proven, then I'm not going in with a idea that I'm going to review these and — and right away start rolling something back," he added.
Earlier this month, it was reported that two transgender cadets — one at the United States Military Academy at West Point and one at the Air Force Academy in Colorado — will be allowed to graduate but will not be allowed to serve in the military because the Pentagon has not yet established procedures to accept transgender troops into the military ranks.
Also earlier this month, Mattis showed that he isn't afraid to change previously existing military policy on the grounds of "readiness and lethality" by making it so that graduates of the military academies must serve at least two years before they can seek opportunities to pursue professional sports careers. Previously, athletes could seek a waiver allowing them to immediately seek athletic careers instead of serving in the military.