Conflicting Gender Segment Deleted From 'Bill Nye the Science Guy' Episode on Netflix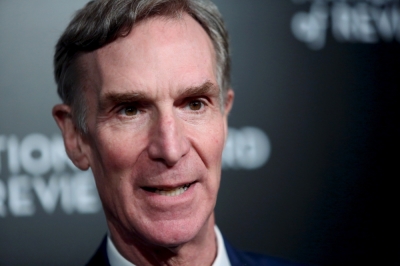 The Netflix version of a 1996 episode of Bill Nye's famous children's science television program appears to have cut out a segment that teaches that there are only two possibilities for gender — boy or girl. That segment contradicts Nye's current beliefs on gender identity.
After Nye's new Netflix series "Bill Nye Saves the World" pushed the idea that gender is a fluid concept and a "spectrum," a segment from an old episode of "Bill Nye the Science Guy" was cast into the media spotlight last month because it seemed to contradict that idea pushed by Nye's new show.
In the past show's episode, titled "Probability," the segment in question showed a girl pointing out that there are only two possibilities for gender and explained the role chromosomes play in determining gender.
"Inside each of our cells are these things called chromosomes and they control whether we become a boy or a girl," the girl says as she points to "XX" and "XY" refrigerator magnets. "Your mom has two X chromosomes in all of her cells and your dad has one X and one Y chromosomes in each of his cells. Before you are born, your mom gives you one of her chromosomes and you dad gives you one of his. Mom always gives you an X and if dad gives you an X too, then you become a girl. But, if he gives you his Y, then you become a boy."
"See, there are only two possibilities," she continued. "The chance of either becoming a boy or a girl is always one in two. It's like flipping a coin. X — you are girl. Y — you are a boy."
The 1996 clip does not actually feature Nye but does clash directly with Nye's current scientific beliefs on sex and gender.
"Now we are realizing that it is more like a kaleidescope. And this stuff isn't just for adults. Parents know this already. Kids explore gender, expression, attraction before they have ever heard of a spectrum," Nye said in his new show. "Take sex, we used to think it was pretty straightforward — an 'X' and a 'Y' chromosome, two X's for females. But we see more combinations than that in real life. And even for people with just two sex chromosomes. Hormones can vary wildly, so can anatomy. What makes someone male and female isn't so clear cut."
After reports surfaced last week that the segment referencing chromosomes from the 1996 episode of "Bill Nye the Science Guy" had been cut from the Netflix version, Netflix said it had nothing to do with the edits to the episode streaming on its service.
A Netflix spokesperson told The Washington Examiner that the company did not edit the episode and it was delivered that way by Buena Vista TV, a division of Disney.
In a statement to the Examiner, a Disney official could not offer concrete details as to when and why the video was edited but suggested that the edit was likely made around 10 years ago when Disney made the program available online.
"It sounds like it was a business-as-usual kind of clearance issue from 10 years ago," the official said.