Ken Ham Nemesis Bill Nye Making TV Return in 'Bill Nye Saves the World,' Will Tackle 'Anti-Science' Claims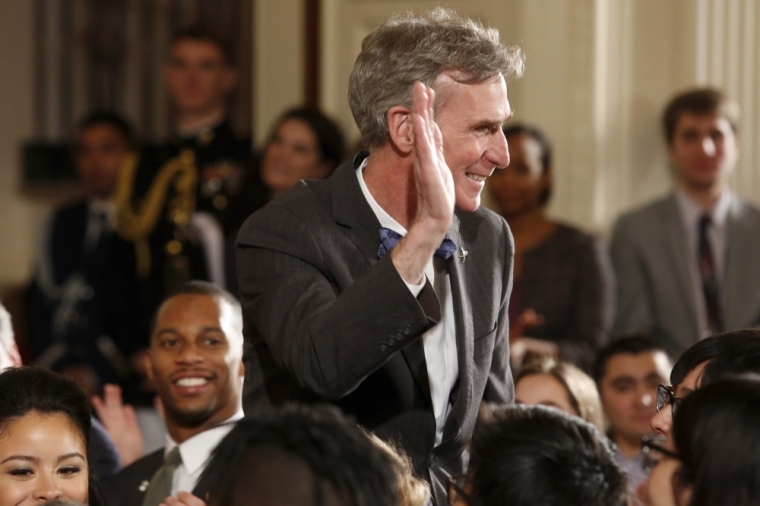 Bill Nye, popularly known for his 90's hit TV show "The Science Guy," will be making his return to the small screen on Netflix in spring 2017 with the launch of his new show "Bill Nye Saves the World," aimed at getting people excited about science and the challenges of the world.
"Since the start of the 'Science Guy' show, I've been on a mission to change the world by getting people everywhere excited about the fundamental ideas in science," Nye said in a statement, according to Variety.
"Today, I'm excited to be working with Netflix on a new show, where we'll discuss the complex scientific issues facing us today, with episodes on vaccinations, genetically modified foods and climate change. With the right science and good writing, we'll do our best to enlighten and entertain our audience. And, perhaps we'll change the world a little."
"Bill Nye Saves the World" will in part tackle myths and "anti-scientific claims" made by politicians, religious leaders, and others, the report said, and will explore how science impacts politics, society and pop culture.
Nye has long been an opponent of some religious views of the world, such as Young Earth Creationism, and has ridiculed beliefs espoused by some, such as Creation Museum CEO Ken Ham, that dinosaurs and humans lived at the same time period in history.
"Humans and ancient dinosaurs did not live at the same time. It's completely unreasonable," Nye said back in June.
"We're going to raise a generation of kids who are scientifically illiterate," he warned.
Ham, who holds a literal view of the creation account in the Bible, publicly debated Nye on the topics of evolution and creationism in February 2014.
Ham also showed Nye around his newly opened Ark Encounter theme park in July, a life-sized replica of Noah's Ark, where the two debated on a host of other topics related to the creation and development of the earth.
After Nye called the theme park "disturbing" and argued that every single one of the science exhibits was supposedly "absolutely wrong," Ham claimed that Nye is seeking to "brainwash" children and convince them that they're "just animals."
"He wants to brainwash kids, to indoctrinate them, in his naturalistic (atheistic) religion of meaninglessness and hopelessness," the Answers in Genesis and Creation Museum president said later in July.
Ham has accused Nye and mainstream media of pushing an anti-Christian agenda in their attacks on creationist Christians.
"Many reporters today don't report news — they use their position to push their obvious anti-biblical agenda and denigrate Christians/creationists. Secular reporters often refuse to talk to AiG scientists because of their anti-Christian agenda and don't understand science. And many reporters are so brainwashed by secular evolutionary beliefs, they can't distinguish belief from fact," he said in another statement.