Perry Noble Reveals Rehab Was 'Closest to Hell I've Ever Been in My Life' in Comeback Message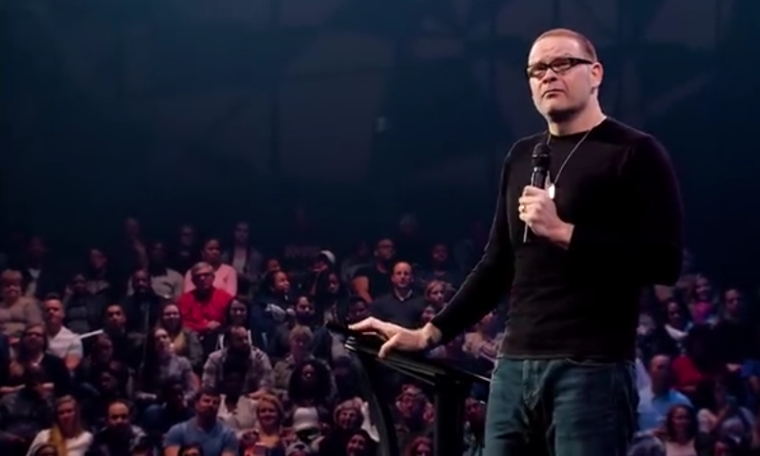 In a rousing comeback message of redemption on Saturday, former NewSpring Church Pastor Perry Noble who lost his job last summer due to alcoholism said rehab was the "closest to Hell I've ever been in my life" and that God told him "I'm not finished with you yet."
Weeks after shooting down concerns that he was returning to ministry too soon after his July 2016 firing from NewSpring Church in South Carolina, Noble returned to the pulpit at Elevation Church with the blessing of his friend and confidante, Steven Furtick, armed with a word for "jacked up" Christians who have fallen.
"If you don't know, probably know, back in July I lost my job drinking too much and I got to go to something called rehab. I'm not gonna ask for a show of hands if you've ever been to rehab because it's probably the closest to Hell I've ever been in my life," said Noble in a recording of the sermon made public by Elevation Church in North Carolina.
"The rehab place that I went to was in Tucson, Arizona, in July. Nobody goes to Tucson in July unless you're in rehab. The day I got there it was 107 degrees and there were snakes. I hate snakes," he said.
Noble explained that about the fourth night of his time at the Tucson facility he experienced his lowest point and had started to feel like everything was lost so he went for a walk. It was during the walk, he said, that God spoke to him.
"I never will forget watching the sunset and it's the closest I've ever come to hearing God audibly whisper to me, 'I'm not finished with you yet,'" he said, to standing ovation after choking up during the memory.
"I don't say that so you can leave tonight thinking that's so great that God spoke to him and told him 'I'm not finished with you yet.' I'm saying, if God can say this to somebody as messed up like me surely there is somebody here tonight that walked in this room feeling defeated and maybe God's whispering to you saying, 'I'm not finished with you yet,'" Noble added.
Noble shared his testimony after preaching from Zechariah 3 which highlights Joshua, a high priest depicted in filthy garments being restored by God. The scripture was the linchpin for his redemptive message divided in a four-part process of accusation, vindication, transformation and celebration.
"When the enemy accuses me, he don't have to accuse me of things I didn't do. I've given him a lot to work with. Don't look at me like you're not jacked up. You are jacked up. In fact, tell your neighbor right now 'you're jacked up,'" Noble told the packed Elevation Church.
He then related a story from his past in 1989 during his senior year when he was drunk in a motel room with friends and the devil used the moment to condemn him.
"Isn't it funny what the enemy can use to accuse you? And he don't have to make it up, which leads me to point number two — vindication," he continued.
"Anytime someone is accusing me, someone is attacking me, my inclination is to fight back. But what I love about this passage in verse 2, 'The Lord said to Satan, 'The Lord rebuke you Satan! The Lord, who has chosen Jerusalem, rebuke you!' Is not this man a burning stick snatched from the fire?'" he said.
"In other words, I knew what he was gonna do before I created him and I created him anyway. And by the way, I arranged for the payment to be made for everything you are accusing him of just so you understand. ... Before He created you, He knew about the addiction, He knew about the affair, He knew about the abortion, He knew every stupid foolish decision that we were gonna make and He created us and made arrangements for the payment to be made," explained Noble, who encouraged the audience to use God's Word to fight back when the enemy accuses them.
"The next time the enemy hit you with what you did," fight back with His Word.
He then discussed the process of transformation and criticized the Church for sometimes hindering that process.
"When you begin to see people changing, you can either take the side of accusation, and say: 'You are dirty. You are jacked up. You do need help.' Or you can take the side of transformation," he said.
"The reason Jesus is changing lives in this church is you don't have to be perfect when you walk in the doors. You can walk in the doors jacked up every single week and you know that there's gonna be people in this room that celebrate the fact that you're in church. This church is like the hands and feet of Jesus," he said in praise of Elevation Church.
"None of you when your kid took two or three steps and fell down picked up your kid and said, 'listen, we are the Jackson family, we don't do that stuff around here. You're gonna walk and if you fall one more time, you're out of the house. That would be a cruel parent, but we've been doing it in churches for years," Noble asserted.
"That's why, when you create an environment where somebody takes a few steps and they fall down, you go, 'Oh my God, you took two steps! Get up. We're gonna celebrate two steps and we're gonna celebrate three more," he added.
Noting that some critics would argue that the illustration only works for children, he charged that the Bible also promotes grace for adults.
"Well adults fall too. If you're an adult and you've never fell down, well, welcome to Earth. You're an alien. We don't even know what planet you're from. What do you do when an adult falls down? It's a great question," he said before pointing to scripture.
"That's why we get the answer in Proverbs 24:16: 'For though the righteous fall seven times. They rise again.' So, if you have fallen this past week, get back up. If you have fallen this past month, get back up. If the enemy has ran the score upon you, get back up because there's still time in the game. You still have a Savior who's on your side. You still have a defender who will defend you against the enemy. If you're not dead, God's not done. If you fell down, get back up!"