Pharrell Williams' Dramatic Grammys Performance Honors Faith, Ferguson: 'I am at Your Service, Lord' (VIDEO)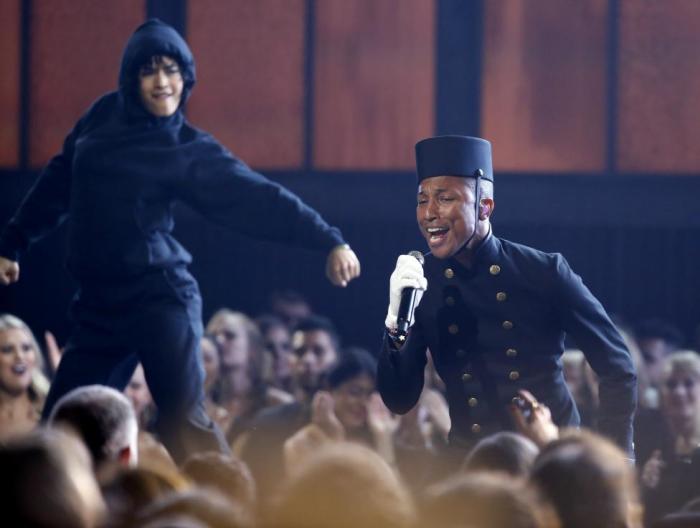 Pharrell Williams gave a nod to Ferguson, Mississippi during his performance at the Grammys on Sunday night and also took a moment to praise God.
The Grammy award-winning artist and producer teamed up with acclaimed pianist Lang Lang and respected composer Hans Zimmer for a compelling rendition of his mega hit "Happy," which scored him Grammys for Best Pop Solo Performance and Best Video.
"Thank you, God. I forgot to say it earlier, but as you can see, I am at your service, Lord," Williams told the crowd at the end.
During the performance, Williams took to the stage dressed in a black bellboy-inspired outfit paired with white gloves and glittering gold sneakers.
In his dramatic opening, Williams slowly spoke his song lyrics in a monologue-type fashion which were then translated into different languages.
Backup dancers wearing black hooded sweatshirts then flooded the stage and others dressed in both white church robes and hues of yellow swarmed the aisles which made for a visually effective and cinematic show.
As the singer began to belt out his famous chorus, the music stopped abruptly making way for Lang, who had the crowd in awe almost as soon as his nimble fingers hit the piano keys.
Adding to the effect, the backup dancers stood firmly on stage and slowly raised their hands as part of a tribute to the "hands up don't shoot"-inspired protests relating to ongoing civil unrest.
Last year, the controversial shooting death of Ferguson teenager Michael Brown and the chokehold death of Staten Island resident Eric Garner ignited protests around the nation. Supporters have called for changes to legislation in a bid to prevent further deaths.
Williams, who is of Christian faith, previously spoke about his religious beliefs and said that those who don't believe in God are "incredibly arrogant and pompous."
"How do you see all the stars and think there's nothing else out there? It's so incredibly arrogant and pompous. It's amazing that there are people who really believe that. It's unbelievable," Williams told UK's Stylist magazine last year.
"Every person who doubts is another person unconverted to better ways of thinking," he continued. "So, with no conversation there's no conversion. With no conversion, there's no conviction. And with no conviction, there's only confusion ... If you don't believe there is a change that is due to you then you will never, ever find it. Change won't come and tap you on the shoulder. You have to be open for change."