Phil and Lucinda Dooley appointed new global senior pastors of Hillsong Church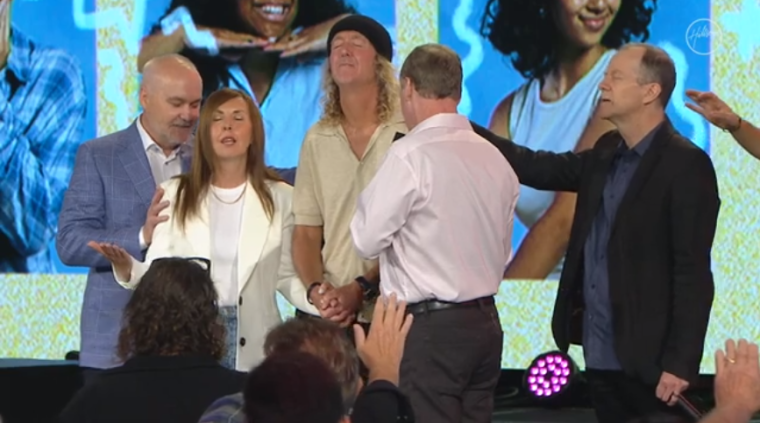 Twelve months after serving as interim global senior pastors of Hillsong Church following the resignation of founder Brian Houston, husband and wife pastors, Phil and Lucinda Dooley, were permanently appointed to the position as "Jesus followers" who "follow the Lord wholeheartedly.
"Phil and Lucinda were raised up in our church. They have served many roles, as youth pastors, worship pastors, pastoral care, and for the last 14 years dedicating their lives to establishing and building [of] a flourishing church in South Africa," chair of the Hillsong Church Global Board, Stephen Crouch, told the congregation before prayers were offered for the couple.
"We believe, that is the global senior board believe, that they have got the spirit of leadership on their life. And as we have come to see them more closely, as you have come to see them more closely, you can see that they follow the Lord wholeheartedly. That they are Jesus followers," Crouch continued.
"The board recognized that they are clearly called by God. And for their part, I know that they are deeply committed to their calling," he added. "I believe that they'll lead this church with grace and wisdom."
Brian Houston formally resigned as global senior pastor of Hillsong Church on March 23, 2022, in the wake of revelations that two women had made serious complaints of misconduct against him in the last 10 years.
Houston, who is fighting criminal charges in Australia that he covered up his father's child sexual abuse, has since blamed public statements made by the church's board for his abrupt resignation instead of any "mistakes" he made in ministry.
He argued that the board's statements led to public speculation and allowed "people's imagination to run wild and draw their own conclusions" about his departure from Hillsong. 
"I want to be clear. The media and others incorrectly say I resigned because I breached the Hillsong code of conduct, but that's just not true. I didn't resign because of my mistakes. I resigned because of the announcements and statements that had been made, which Bobbie and I felt made my position untenable. And I spelled out my reasons for my resignation in my resignation letter to the Hillsong Church board," Brian Houston said in a Facebook video last November.
He added that when he offered to resign last March, he was expecting the board to reject it and fight for him, understanding how much pressure he was facing at the time.
"I guess a big part of me hoped that the board, knowing the pressure I was under, would reject my offer and continue to fight for me, but that was not to be," he said. "We certainly did not want to just abandon the Hillsong congregation, as some have suggested. We adore the people of Hillsong Church, and to be honest, we miss you all terribly."
Houston and his wife, Bobbie, who have since sold their  $4.5 million home in Australia, have been busy in recent weeks selling off their used designer clothes, furniture and other home goods described as "pre-loved" online.