Planned Parenthood Abortion Clinic Worker Reveals Graphic Horrors of 'Human Trafficking of Fetal Tissues'
Holly O'Donnell Says She 'Blacked Out' When Told to Pick Up Dismembered Leg From Pie Dish Using Tweezers on First Day of Work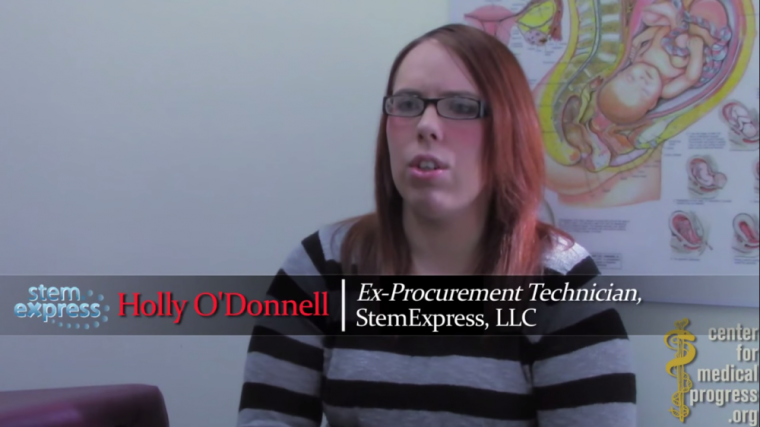 In the third installment of secret videos released by the Center for Medical Progress, a former StemExpress employee reveals the gory details of her on-the-job training in the procurement and sell of aborted babies' body parts.
Holly O'Donnell, who was hired as a phlebotomist, passed out on her first day of working at a Planned Parenthood abortion clinic after she was directed to pick up a baby's dismembered leg using tweezers.
"I could feel death and pain shoot up my body," she exclaimed. "I thought I was going to be just drawing blood, not procuring tissue from aborted fetuses."
O'Donnell, who unknowingly was hired to work as a procurement technician and not a phlebotomist, also elaborated on the profits Planned Parenthood receives from StemExpress.
"For whatever we could procure, they would get a certain percentage," O'Donnell explained. "The main nurse was always trying to make sure we got our specimens. No one else really cared, but the main nurse did because she knew that Planned Parenthood was getting compensated."
"We were asked to procure certain tissues like brain, livers, thymus, pancreas, heart, lungs, and pretty much anything on the fetus," she added, noting that the brain and heart were considered the most valuable organs at her clinic.
Speaking about the work environment at the Planned Parenthood clinic she worked at, O'Donnell said the abortion provider didn't set out to hire "compassionate people" for the job, and described the procedures as "basically human trafficking of fetal tissues."
The new video is the first part of what the Center for Medical Progress has titled, "Human Capital," which depicts images of dismembered aborted babies' remains poured into glass pie dishes for organ harvesting.
The video also introduces abortionist Savita Ginde, vice president and medical director of Planned Parenthood of the Rockies located in Denver, Colorado. The Center for Medical Progress claims this Denver clinic is one of the most profitable abortion facilities in the entire country.
Ginde is depicted in the video at a Planned Parenthood laboratory saying that removing each individual organ from an aborted baby will offer the highest financial benefit for Planned Parenthood.
"I think a per-item thing works a little better, just because we can see how much we can get out of it," said Ginde.
Katherine Sheehan, medical director emerita of Planned Parenthood of the Pacific Southwest in San Diego, is also seen in the video describing her organization's long-time relationship with Advanced Bioscience Resources, a company that has harvested aborted fetal organs since 1989.
"We've been using them for over 10 years, really a long time, you know, just kind of renegotiated the contract," said Sheehan. They're doing the big government-level collections and things like that."
In a statement shared with The Christian Post, Live Action's president Lila Rose says the newly released video offers more evidence of Planned Parenthood profiting from the remains of aborted babies.
"From CEO Cecile Richards, down through the ranks, it is clear that Planned Parenthood is engaging in a system-wide enterprise of profiting from the calculated destruction of human life," Rose asserts. "First, Planned Parenthood sells an abortion for several hundred to thousands of dollars, ending the life of a helpless preborn child. Then Planned Parenthood seeks to maximize its profit by selling the baby's remains."
In a statement released Tuesday, David Dalieden, project lead for the Center for Medical Progress, called Planned Parenthood's practice of selling body parts "widespread enough for many people to be available to give first-person testimony about it."
Dalieden has continued to call for an immediate moratorium on public funding for the popular abortion provider "while Congress and the states determine the full extent of the organization's lawbreaking."
Some congressional Democrats, however, are calling for an investigation into the Center for Medical Progress and California's attorney general, a supporter of Planned Parenthood, has said she will investigate the organization to see if they have broken any state laws during their undercover investigation.
The Christian Post reached out again to the Center for Medical Progress regarding accusations made by Planned Parenthood President Cecile Richards that the organization has ties to the "most militant wing" of the anti-abortion movement, including accusations of a link to murdering doctors and bombing clinics. CP did not receive a response by press time. Dalieden has stated that there are still more videos of Planned Parenthood to be released "in the coming days and months."