Planned Parenthood President Cecile Richards Compares Pro-Lifers to Murderers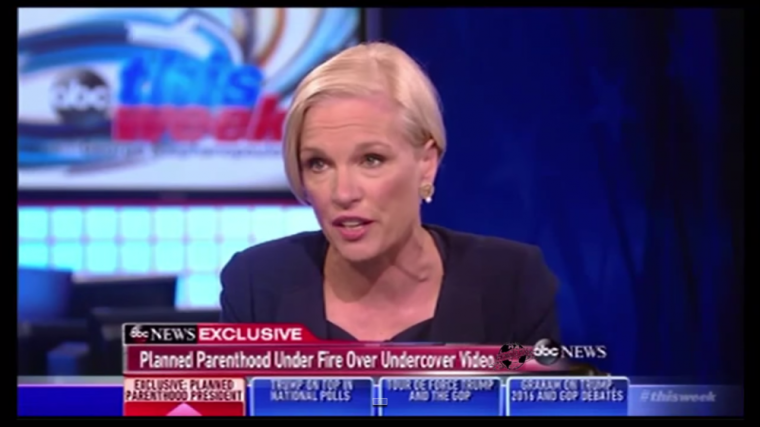 Cecile Richards, president of Planned Parenthood, accused the Center for Medial Progress of being "part of the most militant wing of the anti-abortion movement," while asserting the pro-life group is linked to organizations that bomb clinics and murder doctors.
Richards made the accusations during her Sunday appearance on ABC's "This Week" with host and former political staffer for President Bill Clinton, George Stephanopoulos.
"The folks behind this are part of the most militant wing of the anti-abortion movement that has been behind the bombing of clinics, the murder of doctors in their homes and in their churches, and that is what needs to be looked at," Richards argued.
While Stephanopoulos didn't ask Richards to elaborate on her accusation about the Center for Medical Progress being linked to murderers, her assertion might be tied to a left-wing Media Matters report claiming links between CMP and the pro-life group Operation Rescue. Media Matters and other pro-choice advocacy groups further claim that Operation Rescue was once linked to Scott Roeder, who was convicted of killing late-term abortionist George Tiller in 2010.
CP contacted CMP regarding the allegations but did not receive comment by press time.
During her interview on "This Week" Richards continued to assert her original argument from two weeks ago in which she said the first video was "highly selectively edited." She also told Stephanopoulos that CMP was on a mission "to entrap doctors."
While she admitted that the two Planned Parenthood medical officials were reprimanded for their tone in the videos, she contends that the nation's largest abortion provider, which receives over $500 million in taxpayer funding every year, "has broken no laws."
Stephanopoulos then countered Richards by noting that CMP has released the full versions of the first two videos, but she disregarded his query and repeated Planned Parenthood's talking points, insisting the videos were misleading and selectively edited.
"This entire effort is a complete political smear campaign ...," declared Richards, who accused the organization of setting up a "fake company" using "fake government IDs" and faking "tax filings."
When asked about the prevalence of Planned Parenthood clinics harvesting aborted baby tissue, Richards told Stephanopoulos that the practice is occurring in fewer than five states, but didn't name the states, such as California, Texas and others that have the highest rates of abortion.
Tissue donations from aborted babies is legal if patients give consent and an organization is not directly profiting from the transaction. But Abby Johnson, a former Planned Parenthood director, told CP that legal loopholes allow for wide flexibility for the abortion industry to manipulate the law to their advantage. Johnson added there is "money to be made" for Planned Parenthood.
Richards also countered Stephanopoulos' question on whether Planned Parenthood is profiting or haggling over prices, saying the only organization engaged in those practices is the CMP.
"I look forward to the facts coming out," added Richards.
House Democrats have called for investigations into CMP, while the U.S. Attorney General's office has said it will look into all aspects of the released videos.
Friday, California's Attorney General Kamala Harris, a Planned Parenthood supporter, said she plans to investigate CMP to see if their actions against the abortion provider were lawful.
According to The Hill, the Senate will soon vote on legislation to defund Planned Parenthood; however, the White House said it will not agree to any legislation to strip the organization of federal funding.