Planned Parenthood Caught Selling Aborted Baby Body Parts in Undercover Video: 'We Get Heart, Lung, Liver'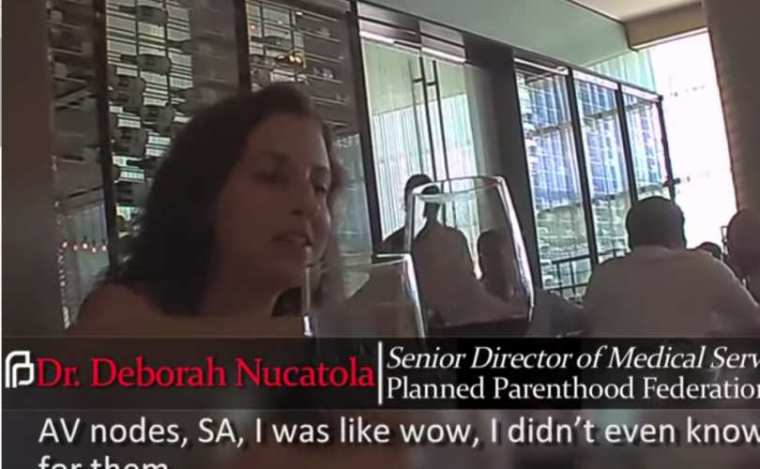 An in-depth undercover video released Tuesday shows a Planned Parenthood abortionist discussing how the billion dollar organization harvests and sells the intact body parts of aborted babies to fetal tissue wholesalers.
The video, first unveiled at the Center for Medical Progress website, is part of a three-year investigation into what the Center for Medical Progress is calling "illegal" practices by Planned Parenthood. Once received by fetal tissue wholesalers, the body parts are shipped to universities, pharmaceutical companies, and government agencies.
Deborah Nucatola, Planned Parenthood's senior director of medical services who performs abortions up to 24 week gestation in Los Angeles, is captured in the video from July 25, 2014, saying the clinics perform partial birth abortions to secure fetal body parts.
"We've been very good at getting heart, lung, liver … I'm not gonna crush that part," says Nucatola. "I'm going to basically crush below, "I'm not gonna crush above, and I am gonna see if I can get it all intact."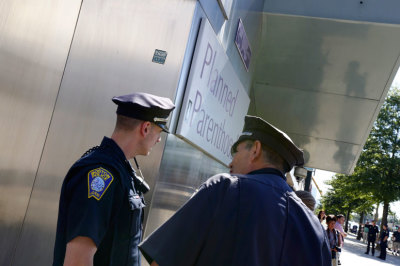 She adds that "specimen" parts generally draw between $30 to $100 on the market. And suggests that the abortion procedure can be tailored to secure specific body parts.
"At the national office, we have a litigation and law department which just really doesn't want us to be the middle people for this issue right now, she declares. "But I will tell you that behind closed doors these conversations are happing with the affiliates."
Upon seeing the video, Russell Moore, president of the Ethics & Religious Liberty Commission of the Southern Baptist Convention, said, "I was speechless for close to an hour."
Moore admitted in his op-ed posted to Facebook that he initially thought the video was a hoax until he confirmed its accuracy with pro-life leaders.
"If this does not shock the conscience, what will?" asked Moore. "It is not only that infants, in their mother's wombs, are deprived of their lives, but also that their corpses are desecrated for profit. This is not only murderous; it is murderous in the most ghoulish way."
Fr. Frank Pravone of Priests for Life said the practice is not just a moral outrage but "breaks several laws on the state and federal level." He called the abortion industry "corrupt to its core."
"If you don't have enough of a concscience to stop you from killing a baby, then you don't have enough of a conscieince to stop you from selling the body parts of aborted babies," declared Pavone.
Reports of Facebook censoring Moore's op-ed were reported by various users and Moore himself. Moore took to Twitter asking Facebook, "Dear @Facebook, what is "abusive" about protesting Planned Parenthood's human trafficking?"
Facebook users who tried to post a link to Moore's comments were told the site was blocked because "other people on Facebook have reported" the content as "abusive."
Lila Rose, president of pro-life group Live Action, was equally horrified by the revelation that Planned Parenthood is illegally harvesting aborted babies' organs for profit.
"This investigation by the Center for Medical Progress reveals the unimaginable horror that is Planned Parenthood," Rose said in a statement shared with The Christian Post on Tuesday.
"The exploitation of human life, the cover-up, and the black market profiteering by America's largest abortion chain is not only egregious and heartbreaking, but exposes how the abortion giant is corrupt to the core — from the CEO, Cecile Richards, down to the local clinic."
In a conference call on Tuesday with CP and other media outlets, David Daleiden, project lead for the undercover investigation, said he could not provide comment at this time about what steps by law enforcement were being taken to investigate Planned Parenthood's breaches of federal and state statutes.
In the video, Nucatola claims that laws against the practice of harvesting aborted body parts are "open to interpretation."
According to the center there are state and federal laws against selling of aborted body parts. "The sale or purchase of human fetal tissue is a federal felony punishable by up to 10 years in prison and a fine of up to $500,000 (42 U.S.C. 289g-2)," declared a statement released by the Center for Medical Progress.
More investigative videos and documentation are set to be released by the Center for Medical Progress in the coming weeks.
Editor's note: Warning, some viewers may find the content discussed in the video disturbing.