Police Arrest US Street Preacher in Scotland for Calling Homosexuality a Sin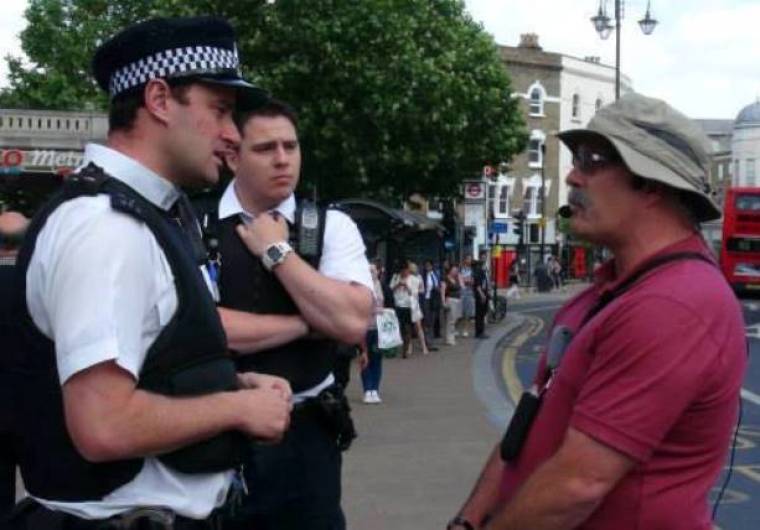 Scottish police arrested Tony Milano, a U.S. preacher and former Los Angeles Deputy Sheriff, for breach of the peace and for using "homophobic" language in the condemnation of sin.
"It is indicative of the suppression of the freedom to speak and live out the words of Jesus Christ in public and present the teachings of the Bible," Andrea Minichiello Williams, chief executive of the British organization Christian Concern's Christian Legal Centre, said about the arrest Wednesday night.
Milano's colleague, Pastor Josh Williamson of the Craigie Reformed Baptist Church in Perth, pointed out, "Tony wasn't focusing just on homosexual practice – it was about all sin."
Milano, the second street preacher to address lunchtime shoppers on Wednesday, was preaching about sin in general. He then turned to mention sexual sin, including adultery, promiscuity, and homosexuality.
As Milano started preaching about sin, a woman reportedly yelled at him, shouting that her son was gay. Williamson said she tried to smash the camera he was using to film Milano's preaching. The woman threatened she would get the preachers arrested, and proceeded to call the police.
The police arrived as the street preachers were packing up, and the woman kept shouting at Milano. "The female officer saw we had a camera and lunged for it," Williamson recalled. "Then the male policeman grabbed it and threw it in the police van."
According to Williamson, the male officer interviewed the woman and her friend, and then immediately arrested Milano, without questioning him or explaining the reason for his arrest. "I asked why he was being arrested and was told it was for a breach of the peace and for using homophobic language," Williamson reported.
Williams noted that the incident "adds to the number of arrests of Christian street evangelists for preaching from the Bible," and warned that it was a sign of the suppression of religious freedom.
Milano was arrested for a similar "crime" in London last July. "The officers that detained me specifically said the concern was the use of 'homophobic hate speech,'" the retired deputy sheriff told Christian radio talk show host Frank Sontag during a segment on KKLA. Christian Concern helped him avoid paying a fine and receive a "caution" after he was detained.
"I was expositing 1 Thessalonians 4:1-8, where the apostle Paul admonishes the Thessalonians to abstain from all forms of sexual immorality," the street preacher explained. "I began to preach from that text by describing different kinds of sexual immorality, from addiction to romance novels to pornography, fornication, sex outside of marriage, lust of the heart, lust of the mind, lust of the eyes and homosexuality."
While spending seven hours in jail, he said police interrogated him about his faith in Jesus Christ. "I was asked if I believe homosexuality is a sin," Milano recounted. "I was asked what portion of the Bible I was reading. I was asked that if a homosexual was hungry and walked up to me, would I give them something to eat."
Milano explained he began street evangelism eight years ago when he realized "that I love myself more than I love lost people." He admitted that "I was more concerned about me than where they would spend eternity – I was more concerned about what they thought of me instead of what they think of Christ."
"There's nothing more loving we will do for another human being than explain to them that God's wrath abides upon them and that same God that will send them to hell is also the only that can save them from self through faith in Jesus Christ," Milano declared.