Police Must Be Educated on Religious Freedom Laws, Says Christian Group After 3 Street Preachers Arrested in UK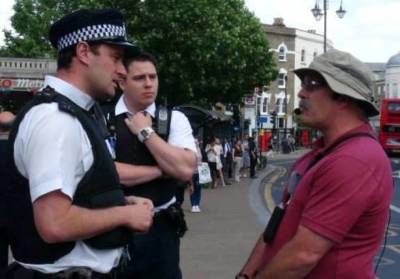 A Christian legal group is calling on members of Parliament and the head of police to better educate law enforcement about public order and breaching the peace laws, after a Scottish street preacher was arrested twice last week.
Since this summer, Christian Concern has tracked the arrests of three street preachers in Britain. In July, American Tony Miano was arrested in London. Rob Hughes was arrested in the beginning of September in Essex, and Josh Williamson was arrested twice last week in Perth, Scotland.
It is not uncommon for street evangelists to preach on the "High Streets" or main roads of town, where they encounter a significant amount of foot traffic said Peter Norris, a spokesperson for the British legal group, Christian Concern.
"Its public property and they are free to preach there," he said. "Sometimes you have to get a permit for bigger things, but for these guys it's perfectly legal for them to preach on the street."
He explained that he believes the string of arrests is likely due to lack of legal understanding by law enforcement, who Norris says have mistakenly applied England's Section 5 of the Public Order and Scotland's Breach of the Peace mandates.
"There's a lot of ignorance among police officers on the ground about what constitutes offense," said Norris. "We have a piece of legislation, Section 5, which is the section that covers this kind of thing…and certainly includes protections Miano and Hughes' actions."
Miano said he was originally arrested for preaching against homosexuality, when in fact he was reading out of the book of 1 Thessalonians, and was later released without being charged. Police had at first stipulated that he could leave if he paid a small charge and accepted a "Caution," but Christian Concern was able to provide him with a solicitor who helped him navigate the legal issues and ultimately he did not need to accept either of the demands from the police. Miano has since returned to the United States.
Hughes, who had been detained for causing "harassment, alarm or distress" after someone had lodged a complaint, was able to refute the claim because of a recording he had of himself from the day which proved the allegation was completely fabricated and false.
In Williamson's case, which has not yet been resolved, police accused him of being overly loud though "he pointed out to them that he wasn't using any amplification," said Norris.
After, he was arrested a second time on Saturday, Norris said he was originally supposed to be detained until the following Monday. Police let him go later that day, though they held onto his mp3 player and they are now waiting for a public prosecutor to review the evidence.
"One policeman told me that the content of what I was saying was the issue. I asked them to clarify, but they wouldn't. People were making abusive comments to me and swearing in public, that is breaking the law, but instead they went straight to the street preacher," Williamson told the Canada Free Press, who accused the police of breaching religious freedom laws.
"I think it is a form of discrimination and I think that comes back to the content. It becomes dangerous when police say it's due to the content, you get into a position where you wonder what part of speaking from the Gospel is illegal," he added.
Norris has yet to hear of similar incidents with street preachers of other faiths.
However, he pointed out that Christian Concern's fight is one in which all citizens should have an interest.
"We are just trying to profile the cases so that it comes to public attention that it needs to be addressed because it's a freedom of speech issue which is in everyone's bet interest. Thriving democracies depend on freedom of speech being preserved," said Norris.