NYC Police Athletic League Hosts 'Play on Wall Street' With Chris Canty and Commissioner Kelly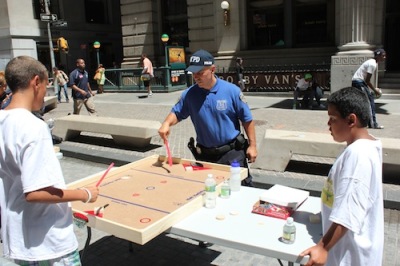 NEW YORK -- The Police Athletic League gathered in front of New York City's Stock Exchange on Wednesday afternoon to kick off their summer with the "Play Street on Wall Street" event.
Various areas surrounding the Stock Exchange were blocked off to accommodate the dozens of children who played a variety of games with members of the New York Police Department in lower Manhattan. Speakers like New York City Police Athletic League director Alana Sweeny, NYPD Commissioner Ray Kelly, retired New York Liberty center Kym Hampton and New York Giants defensive tackle Chris Canty spoke to the children about the importance of growing up to be successful people. Commissioner Kelly informed his audience that he was once a PAL kid, and spoke about why the organization was so important for New Yorkers.
"PAL has been coordinating play streets for 100 years and has become a crucial part of the New York summer scene," Kelly told the children before they engaged in the various activities awaiting them in surrounding playing areas. "I too was a PAL kid."
The children also welcomed NFL champion Canty to speak with them after his recent championship season in which he scored career high tackles and sacks. The defensive lineman pledged to work with the children over the summer with his Chris Canty Foundation and the PAL organization.
"Kids it's about your dreams. It's about your goals," he told the children cheering him on Wednesday. "It's exciting to be able to elevate that platform to have an impact on kids lives."
Canty and others involved in the initiative seek to improve statistics that say 96 out of 188 neighborhoods are lacking in outdoor space that children can play in. About 33 percent of those children spend at least three hours watching television or playing video games instead of enjoying physical activity needed to keep them healthy.
As a result, 40 percent of New York City public school children ages 6-12 are overweight, according to the PAL website. The Police Athletic League's Summer Fun program is able to help over 2,200 kids attend summer camp, while giving over 7,000 more children the opportunity to experience close to 50 'Play Street' events around New York city.
For more information about the Police Athletic League, visit www.palnyc.org.