Jeremy Lin's Fans Don't Intimidate Steve Nash; Suns Guard Interested in Knicks, Not Kobe Bryant
Steve Nash made headlines recently after expressing an interest in speaking with the New York Knicks, but as his free agency approaches the veteran guard is now lauding "Linsanity."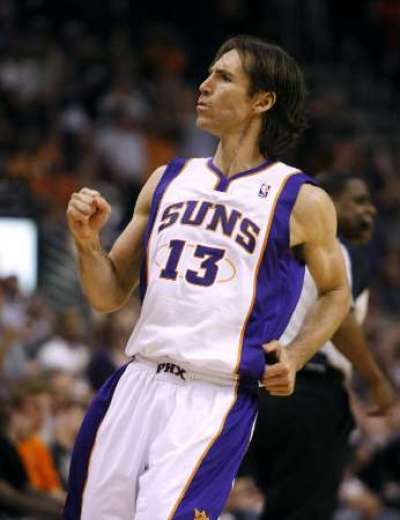 Nash, 38-year-old Phoenix Suns point guard who will officially become a free agent on July 1, recently said he is not intimated by 23-year-old Knicks starting point guard Jeremy Lin. Lin, dubbed "Linsanity" after a seven-game winning streak in February, has been compared to Nash by many sports analysts and commentators.
However, the veteran guard called Linsanity's rise to stardom "great" and doesn't feel the need to compete with the fame of the younger player.
"I wouldn't have any fear of the fans maybe having a love affair with Jeremy," Nash told ESPN New York 98.7 Monday. "I think it's great. ... That doesn't really bother me."
The remarks come on the heels of Nash's confirmation that he would be interested in the team if they reached out to him during the coming weeks.
"The Knicks are a great franchise and I live in New York City (each summer), so I'd definitely consider them if they were interested," Nash said in an ESPN report.
While many rumors have erupted concerning Nash's next destination, he told ESPN New York radio station that he has almost ruled out playing for the Los Angeles Lakers with guard Kobe Bryant.
"The truth is I'm a bit old school. For me, it would be hard to put on a Lakers jersey. That's just the way it is," Nash said. "You play against them so many times in the playoffs, and I just use them as an example, and I have the utmost respect for them and their organization."
Although Nash, a two-time league MVP, will officially have the freedom to choose his next destination next week, he admits that money will be an important factor in wherever he goes.
"I definitely feel I want to be validated monetarily to an extent. It's still very important. I think money in many ways represents respect," Nash said. " It has to be one of the factors. It's not everything but it is important and will be one of the factors involved.''
Jeremy Lin - Top 10