Polls, Pundits Give Romney Historic Debate Victory; Will It Matter?
GOP presidential candidate Mitt Romney showed surprising strength against President Obama in Denver last night, earning the highest poll ratings ever recorded in a presidential debate and the grudging respect of some of the most ardent Obama supporters.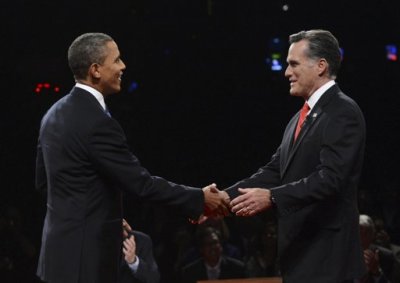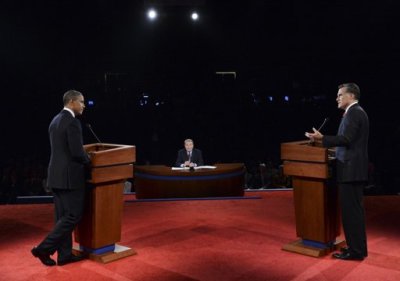 One question being asked is will it matter and, if so, how much? Conservative columnist Hugh Hewitt quipped in a blog headline right after the debate: "Since No President Has Ever Done This Badly In A Debate, We Have No Idea What It Will Do To Race"
A CNN/ORC International survey conducted right after the debate showed a whopping 67 percent gave the contest to Romney, the first time such a poll showed a response above 60 percent since it began in 1984. Only one in four said Obama was victorious.
A CBS News poll of undecided voters taken immediately after the debate found 46 percent saying Romney won, 22 percent saying Obama did, and 32 percent calling the debate a draw.
Andrew Sullivan, one of Obama's strongest supporters, blogged at the end of the debate: "Look: you know how much I love the guy, and you know how much of a high information viewer I am, and I can see the logic of some of Obama's meandering, weak, professorial arguments. But this was a disaster for the president for the key people he needs to reach, and his effete, wonkish lectures may have jolted a lot of independents into giving Romney a second look."
Chris Matthews, known for his infamous "chills down my spine" support of Obama, asserted last night: "I don't know what he was doing out there. He had his head down, he was enduring the debate rather than fighting it. Romney, on the other hand, came in with a campaign. He had a plan, he was going to dominate the time, he was going to be aggressive, he was going to push the moderator around, which he did effectively, he was going to relish the evening, enjoying it."
Matthews suggested that Obama watch MSNBC more to learn how to debate the issues better.
Matthews was wrong about Romney dominating the time. Obama pushed moderator Jim Lehrer into letting him give him the longer answers, according to pundits, but most agreed Romney used his time better.
"If the main goal for Romney in this debate was to show he could stand on stage with the president and handle a wide-ranging discussion on economic policy, he did so with flying colors," said The Washington Post's Chris Cizilla, who is known for his independent reporting style. "Romney's strength as a debater – as demonstrated during the GOP primaries – is his ability to recall massive amounts of information with little seeming effort and he did that time and again on Wednesday night."
"Romney didn't just deliver a sort of hyper-competence, however. He was at times funny – his quip at the beginning of the debate about the president spending his wedding anniversary at a debate was a good one – and delivered plenty of quotable moments ("you pick the losers," "you're entitled to your own airplane and your own house") that will be replayed again and again in the after-action analysis."
The former Massachusetts governor has been persistently trailing in national polls for the last few weeks by a handful of points, yet his confidence seemed to overwhelm President Obama, who failed even once to bring up Romney's "47 percent" gaffe, a reference to Americans who don't pay income taxes, which seemed to be a thorn in his side in recent weeks.
Larry Sabato of the University of Virginia's Center for Politics was equally impressed with Romney's performance, but will be closely watching whether it moves the poll needle to his side. Toward the end of Wednesday night's debate, Sabato tweeted, "Obama now has spoken 38 mins to Romney's 33 mins--but Romney has gotten more from less."
Other memorable tweets from Sabato include: "Is Obama saving the 47% video for his close?" and "Probably Romney's best debate ever. Maybe Obama's worst. I lost count of # of opportunities Obama missed."
For weeks conservatives have wailed about what they perceive as unfair treatment from what they commonly refer to as the "mainstream" media. However, last night many columnists and reporters who fall into that category agreed that Romney came out on top.
"Well, I've covered President Obama for about six or seven years now and I've seen him inspire crowds of tens of thousands and then I also recall the summer of 2007 when he was listless and flat and uninspired and his campaign manager had to knock some sense in him and get him back in the game," wrote ABC's Jake Tapper. "Unfortunately for the Obama campaign that's the Obama I saw on the stage tonight. It was not a strong performance by him."
Even Obama's chief campaign strategist, David Axelrod, conceded a Romney victory. "There's no doubt he has hungry challenger," David Axelrod told reporters when he addressed Romney's performance and awarded him "style" points. "Gov. Romney's always been good on the attack."
Former adviser to President Bill Clinton, James Carville, speaking on CNN, said it was obvious Romney came ready to engage the president. "It looked like Romney wanted to be there and President Obama didn't want to be there," adding that Romney had a "good night."
However, there are those who believe the debate was not as one-sided as most surmise.
"I do think the instantaneous, echo chamber reaction that is handing Romney an overwhelming victory is overstated," wrote Jonathan Chait in New York Magazine. "Romney made a huge error selling his Medicare plan, promising, 'if you're around 60, you don't need to listen any further.'"
Vice President Biden taped this video response after the debate: "Hello everybody, if you just finished watching the debate like I did, I'm sure you're as proud of President Obama as I am … I think the president did a wonderful job making it clear just how stark that choice is."
Still, the key question that will ultimately determine if Romney scored a decisive victory is whether undecided voters in key swing states will hit the lever for him on Election Day. Fox News pollster Frank Luntz watched the debate with a group of undecided voters at Colorado Christian University.
One voter in particular was impressed with Romney's commitment to reach across the aisle.
"As president I will sit down on day one with Democrat and Republican leaders," said Romney, appearing to gain the respect of one undecided voter.
The next debate will take place on Oct. 11 in Danville, Ky., when GOP vice presidential nominee Rep. Paul Ryan (Wis.) will face Vice President Joe Biden.
Two more presidential debates will be held prior to Nov. 6.
Presidential Debate 2012 (Complete) Romney vs.Obama