Pope Benedict XVI Preaches Peace, Reconciliation and Justice During Visit to Benin
Pope Visits West Africa's 'Voodoo Heartland' in 2nd Visit to Continent
Pope Benedict XVI, on a three-day visit to Benin, delivered a message of peace and reconciliation while calling on leaders of the West African nation to govern justly and take their Christian duties seriously. Benin, populated mostly by Catholics and Protestants, also has a number of Voodoo adherents, many of whom believe the cultural tradition can go hand-in-hand with other faiths. 
Arriving in Cotonou, Benin Friday, Benedict met with President Thomas Boni Yayi and other government leaders at the presidential palace and asked them to be mindful of their people's welfare.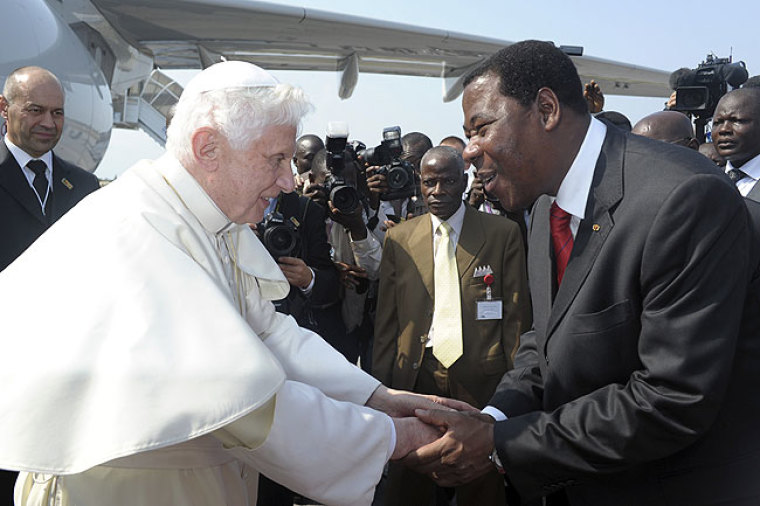 "At this time, there are too many scandals and injustices, too much corruption and greed, too many errors and lies, too much violence which leads to misery and to death. These ills certainly afflict your continent, but they also afflict the rest of the world," Benedict said.
"Hence we are faced with legitimate demands, present in all countries, for greater dignity and above all for greater humanity. Man demands that his humanity be respected and promoted. Political and economic leaders of countries find themselves placed before important decisions and choices which they can no longer avoid.
"From this place, I launch an appeal to all political and economic leaders of African countries and the rest of the world. Do not deprive your peoples of hope! Do not cut them off from their future by mutilating their present! Adopt a courageous ethical approach to your responsibilities and, if you are believers, ask God to grant you wisdom! This wisdom will help you to understand that, as promoters of your peoples' future, you must become true servants of hope."
The pope also took the occassion to unveil an 87-page document called the "Africae Munis" that describes the Catholic Church's role in Africa, which is still being ravaged by conflicts and corruption.
The document, signed by Benedict during this visit with government officials, highlights Catholic doctrines on penance and forgiveness and encourages principles aimed at stifling the cycle of revenge that may be sought out by citizens who feel abused by their leaders.
Some of the most corrupt leaders on the continent have been Catholics, Harvard Divinity School professor Jacob Olupona, of Nigeria, told The Associated Press.
He sees the Vatican's document as a push for Benin to take the lead in the continent and for the country's faithful to be an example of righteousness for their peers to follow.
"What is the purpose of loving God and hating your neighbor?" Olunpona said.
Benin, considered the "cradle of voodoo in West Africa," according to Reuters and various other media reports, is also on a continent that has seen the fastest growth of the Roman Catholic faith.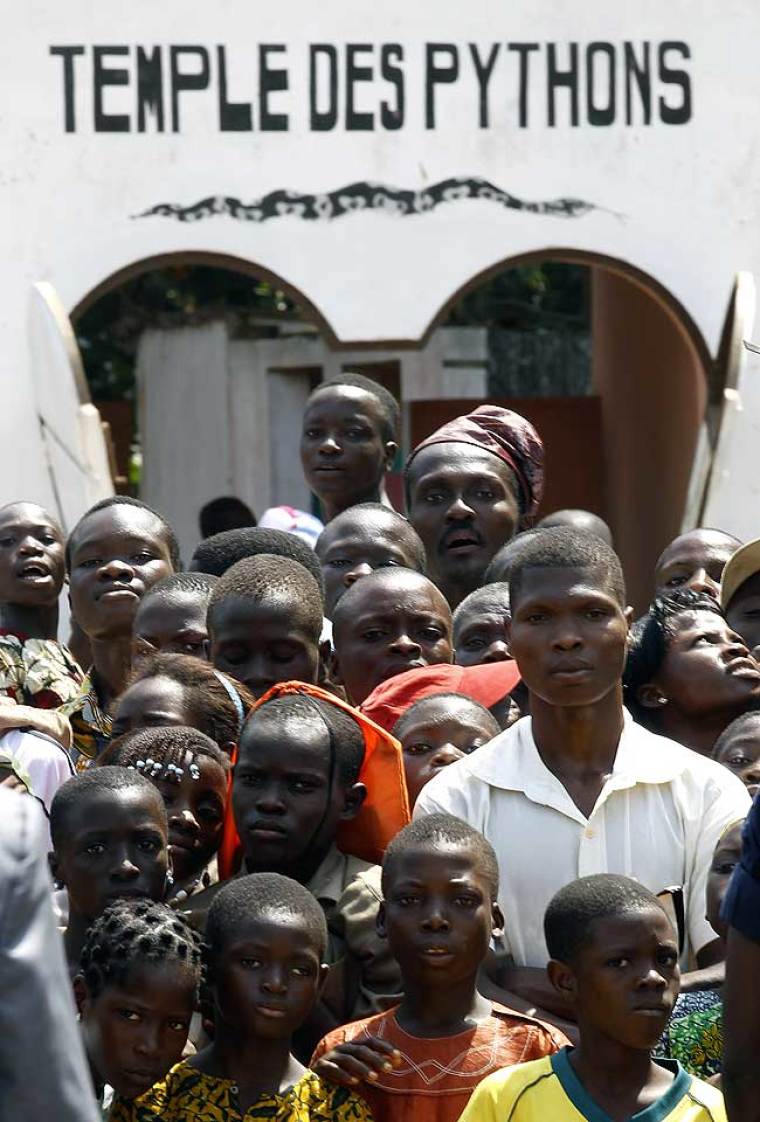 The religious adherents of the country's population, numbered at 9,325,032, is mainly split across four groups:
Catholics make up 27.1 percent, Muslims 24.4 percent, Vodoun (or Voodoo) practitioners 17.3 percent, and Protestants 10.4 percent, according to the CIA Factbook. The number of people who practice Voodoo may actually be greater among those who do not see this deeply cultural tradition as a conflict with other faiths.
Many of the country's priests are trained in the city of Ouidah a the Ouidah Catholic seminary, according to the BBC. At the same time, however, Ouidah is a stronghold for Voodoo practice, which becomes a center of celebration during the nation's annual National Voodoo Day. Ouidah also holds significance as a West African slave port and as the place where Christian missionaries arrived 150 years ago.
Benedict visisted the Basillica of the Immaculate Conception across the street from a Voodoo temple in Ouidah on Saturday. 
Magloire Fadjikpe, a former army chief warrant officer who lives in Ouidah, told Radio Netherlands Worldwide (RNW) that he sees no problem blending his traditional faith with his Catholic beliefs.
"We have mixed up" voodoo and Catholicism, he told RNW. "We worship the same God. The priests always tell us that we cannot do both at the same time. They forget that we had worshipped voodoo before the missionaries arrived."
RNW also spoke with Severin Adantonon, an official with a Catholic group in Ouidah, who warns against blending Catholicism and Voodoo. He insists his countrymen need to choose Jesus and Jesus alone.
"But leaving that environment behind is difficult," he admitted, adding that most people were raised according to traditional beliefs. "It means saying no to their parents." Adantonon said he and his church group, described as charismatic, often hold deliverance prayer services to help those wanting to put Voodoo behind them.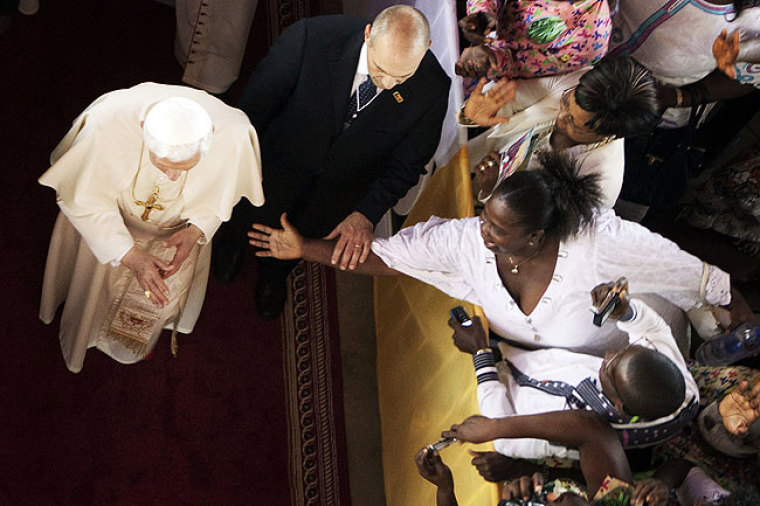 The Vatican has spoken against the syncretistic practice of holding Voodoo and the Catholic faith on equal footing, but it was unclear if Pope Benedict planned to raise the issue on his visit to the region. However, Benedict will be meeting with some local leaders of "traditional African religions," according to the BBC.
It was also unclear if the pope plans to address the nation's AIDS infection and mortality rates as he did during his first visit to Africa two years ago (1.2 percent of Benin's adult population is estimated to be HIV positive, according to a 2007 report). At the time Pope Benedict ruffled a few feathers when he suggested that the use of condoms only adds to the problem of AIDS. He has since softened his stance on the Vatican's view of contraceptives, saying in "some cases" condoms were admissible.
The pope's itinerary does include a meeting with about 200 sick and disabled children cared for by Catholic missionaries at St. Rita's parish.
Benedict also plans to address the many human rights atrocities in Africa, as well as to the Church's role during Benini's transition from a dictatorship to democracy between 1989 and 1991.
The Vatican was providing a live feed of Pope Benedict's 3-day travels to African on the Holy See's website.