Pope Francis Ditches Mercedes-Benz Popemobile for 30-Year-Old Used Car With 186,000 Miles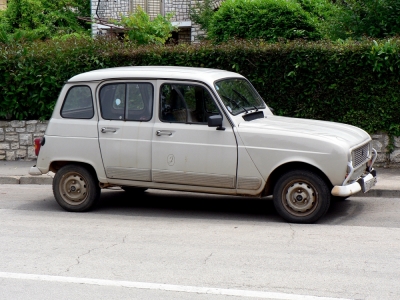 The pope has continued to surprise many with his show of humility, and after urging Church leaders to give up driving extravagant vehicles to instead donate the money to the poor, he has repeated led by example.
Pope Francis has given up the use of the famous "Popemobile," which was a Mercedes-Benz, and now it seems his latest ride will be a 30-year-old Renault 4 with 186,000 miles on the clock.
"I think the pope will drive it a bit himself inside the Vatican," the Holy See's deputy spokesman, Father Ciro Benedettini, said on Thursday.
The new car was in fact a gift to Francis from a 70-year-old priest from northern Italy, Father Renzo Zocca. Zocca previously wrote the pontiff a letter saying he had used the same car for decades and wanted to give it as a symbolic gift after the pope's comments on humility.
In recent days, Zocca brought the car to the Vatican, where the pope explained that he was confident of driving it as he had previously owned a similar Renault 4 in Argentina.
Since assuming the papacy, Pope Francis has surprised the world with his more-openly humble attitude. When he was a cardinal in Buenos Aires he was known to travel by public transportation on the subway.
Even on the night of his election as pope, Francis declined the use of the famous bulletproof papal Mercedes limousine, and instead traveled by minibus with the cardinals who had elected him to lead the Catholic Church.
The original bulletproof Popemobile was built out of a concern for safety. In 1981, Pope John Paul II was shot in St. Peter's Square. He survived but the assassination attempt changed the look of papal travel.
For Pope Francis, austerity and humility have been highlighted his unique path to fame. Since he became Pope earlier this year, he has turned heads for washing the feet of Muslim prisoners, calling lay people on the phone, and carrying his own bags.