Pope Francis' Popularity Falls Sharply Among Conservatives in the US, Says Gallup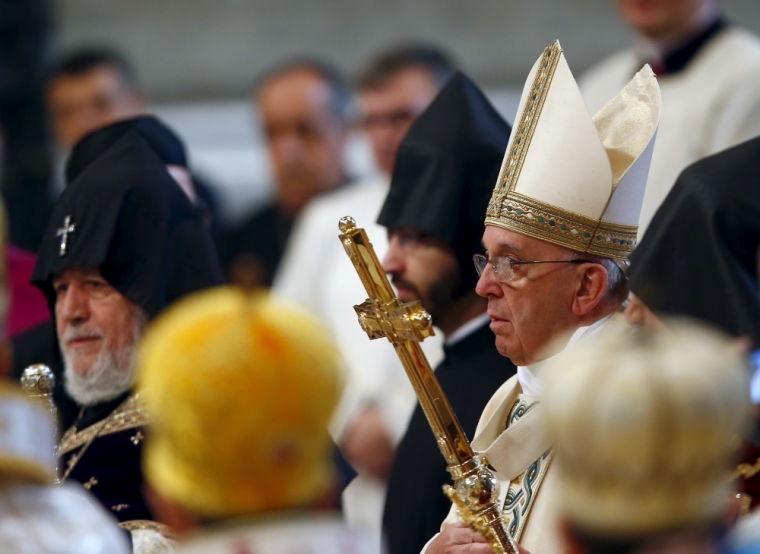 A Gallup poll has found that Pope Francis' favorability rating in the U.S. has fallen significantly from last year, and now less than half of conservatives have a favorable opinion of him. Gallup suggested that the change is due to the pope's strong messages on human responsibility in climate change and his condemnation of the world's "idolatry of money."
"This decline may be attributable to the pope's denouncing of 'the idolatry of money' and attributing climate change partially to human activity, along with his passionate focus on income inequality — all issues that are at odds with many conservatives' beliefs," Gallup analyst Art Swift wrote on Wednesday, according to Religion News Service.
Among all Americans who responded to the survey, most, or 59 percent, still held a favorable view of the pontiff, with 16 percent holding an unfavorable view, and 25 present stating they have no opinion. The level of support is down from the last poll from February 2014, however, where Francis enjoyed 76 percent favorable ratings.
Francis' latest ratings were down across the board, though the poll showed the greatest drop occurred among conservatives.
The poll said that less than half, or 45 percent, of conservatives now have a favorable view of the pope, down 27 points from 2014. Liberals on the other hand showed 68 percent approval, while moderates 71 percent. Looking at different denominations, 71 percent of Roman Catholics backed Francis, compared to 52 percent of Protestants and other Christians.
"Pope Francis is still viewed favorably among Americans, but his image has declined since early 2014. The decline in his favorable rating reflects, in part, the increase in the percentage of Americans who don't have an opinion of the pope, but also a sharp drop in favorable opinions among Catholics and political conservatives," Gallup said.
The poll, conducted July 8-12, used a a random sample of 1,009 adults from all 50 U.S. states and the District of Columbia, and has a margin of sampling error of plus or minus four percentage points at the 95 percent confidence level.
Francis, who is due to visit the U.S. in September, said earlier in July during a trip to Bolivia that the "unfettered pursuit of money" is the "dung of the devil," which harms the common good.
"Once capital becomes an idol and guides people's decisions, once greed for money presides over the entire socioeconomic system, it ruins society, it condemns and enslaves men and women, it destroys human fraternity, it sets people against one another and, as we clearly see, it even puts at risk our common home," Francis declared.
Throughout his papacy he has condemned what he calls the idolatry of money, drawing criticism from some American conservatives, such as radio host Rush Limbaugh.
The Roman Catholic Church's leader also published an encyclical on the environment in June, in which he warned that man-made climate change is impacting all of God's creation, including impoverished people in different corners of the world.
"When nature is viewed solely as a source of profit and gain, this has serious consequences for society," Francis wrote in his 184-page "Laudato Si,'" or "Praise Be to You" document.
"This vision of 'might is right' has engendered immense inequality, injustice and acts of violence against the majority of humanity, since resources end up in the hands of the first comer or the most powerful: the winner takes all. Completely at odds with this model are the ideals of harmony, justice, fraternity and peace as proposed by Jesus."