Pope Francis Prays Before Shroud of Turin; Calls Disputed Burial Cloth of Jesus 'Icon of Love'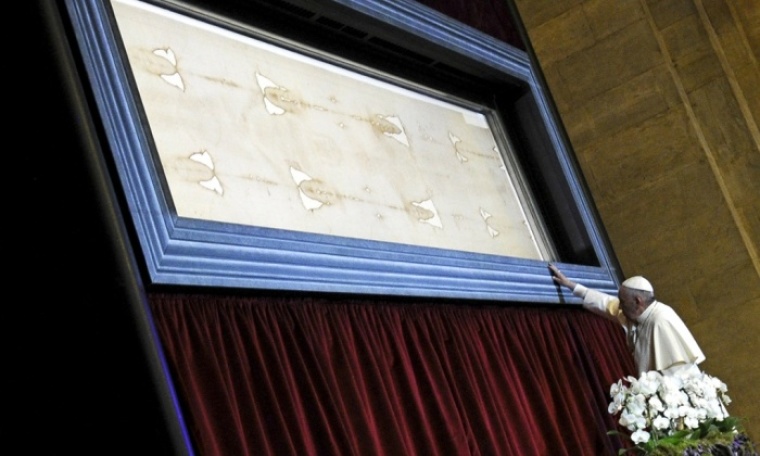 Pope Francis has spent time praying before the Shroud of Turin in a two-day visit to the city this weekend, joining hundreds of thousands who in the past two months have stopped to pay their respects to what some believe is the burial cloth of Jesus Christ.
Although the Vatican has never publicly declared whether it considers the shroud an actual relic belonging to Jesus, Francis told the audience at mass in Turin that the cloth is an "icon of love."
"The shroud attracts toward the face and the martyred body of Jesus and at the same time pushes us toward the face of those who suffer or are unjustly persecuted," he said, according to Catholic Herald.
"It pushes us in the direction of the gift that is Jesus's love."
The 14-foot cloth, which holds the imprint of a man many believe to be Jesus Christ, is on display to the public for the first time since 2010. It is usually kept sealed inside a container in a chapel next to the Cathedral of Saint John the Baptist, and has been made available for viewing only five times since 1933.
The authenticity of the shroud continues to be disputed, and a number of tests have been conducted to try and determine its age. While carbon-14 tests in 1988 claimed that the relic is a 13th century forgery, further analysis by scientists found that the fibers tested were from a patch in the shroud, and not part of the original cloth.
Archbishop of Turin Cesare Nosiglia suggested back in April that regardless of whether people believe the shroud really is the burial cloth used to wrap the body of the crucified Christ, it "reflects in a clear and precise manner how the Gospels describe the passion and death of Jesus."
"It is not a profession of faith because it is not an object of faith, nor of devotion, but it can help faith," Nosiglia added.
In his Sunday homily, Francis said that the shroud serves as a reminder that people should found their lives upon the "rock" which is Christ.
"The love of God," Pope Francis said, "is stable and secure" as Jesus shows in the Gospel. He calms the storm of our lives by commanding the winds and sea. For the person at the point of surrender, the Lord "comes to him and offers him the Rock of His Love."
Francis also called on the people of Turin to seek to include others, rather than exclude those that are different.
"Immigration increases competition, but we don't have to blame the migrants because they are victims of inequality, of this throwaway economy and the wars," the Roman Catholic Church leader said, according to Vatican Radio.
"It makes one cry to see the spectacle of these days in which human beings are treated as commercial goods."