Pope Francis Rebukes Perversion of Religion, Islamist Militancy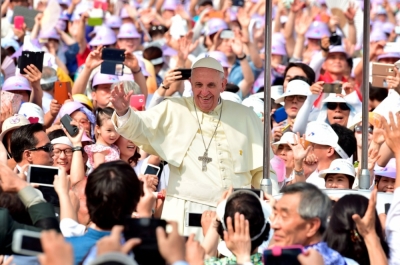 During his visit to Albania and amid tightened security, Pope Francis on Sunday strongly condemned groups that pervert religion for violence under the guise of being "the armor of God." His comments come as the terror group Islamic State, or ISIS, continues to kill and abduct minorities in Iraq and Syria.
"Let no one consider themselves to be the 'armor' of God while planning and carrying out acts of violence and oppression," the pontiff said in his address to President Bujar Nishani of the majority Muslim country and other officials and religious leaders at Tirana's presidential palace.
"May no one use religion as a pretext for actions against human dignity and against the fundamental rights of every man and woman," The Associated Press quoted Francis as saying. "This is especially the case in these times where an authentic religious spirit is being perverted and where religious differences are being distorted and exploited."
The pope's address took place amid reports that ISIS militants trained in Iraq and Syria have returned and could be a potential threat to his security.
The pope praised "the climate of respect and mutual trust between Catholics, Orthodox and Muslims" in Albania.
About 60 percent of the Albanians are Muslim, and roughly 10 percent of the population is Roman Catholic.
"This is especially the case in these times where an authentic religious spirit is being perverted and where religious differences are being distorted and exploited and instrumentalized," he said, according to Reuters.
"What the experience in Albania shows, rather, is that a peaceful and fruitful coexistence between persons and communities of believers of different religions is not only desirable, but possible and realistic," he said.
Francis also spoke to religious leaders at a Catholic university later, and again raised the issue of distorting religion.
"All those forms which present a distorted use of religion, must be firmly refuted as false since they are unworthy of God or humanity," he said, according to USA Today. "No one must use the name of God to commit violence. To kill in the name of God is a grave sacrilege. To discriminate in the name of God is inhuman."
ISIS, or Islamic State of Iraq and Syria, which has gained control over large swathes of Iraq and Syria, is an al-Qaeda offshoot. The group wants to form an Islamic emirate in the Levant region through "jihad."
According to the CIA, ISIS has about 31,500 fighters across Iraq and Syria.
ISIS is believed to have hundreds of foreign fighters, including those from the United States and Europe. Its men have killed hundreds of civilians in Iraq. Numerous members of the Christian and Yazidi minorities have also been killed, and tens of thousands of them have fled their homes.
ISIS released a video a fortnight ago showing the beheading of a 44-year-old British aid worker, David Haines, the father of two who went to Syria to serve at a refugee camp. The Sunni terror group previously released two more videos showing the beheadings of U.S. journalists James Foley and Steven Sotloff, and has threatened to kill more Western hostages.
The pontiff also paid tribute to the dozens of Catholic priests who were persecuted or killed under Stalinist dictator Enver Hoxha, who declared Albania the world's first atheist state in 1967.
"Recalling the decades of atrocious suffering and harsh persecutions against Catholics, Orthodox and Muslims, we can say that Albania was a land of martyrs: many bishops, priests, men and women religious, and laity paid for their fidelity with their lives," he said.
Earlier this month, Francis said the world's conflicts, with the kind of crimes, massacres and destruction they involve, could be called a "piecemeal" Third World War.
"War is madness," he said in the homily of a mass at the Redipuglia war memorial, where more than 100,000 soldiers who died in World War One are buried.
"Humanity needs to weep, and this is the time to weep," Francis said. "Even today, after the second failure of another world war, perhaps one can speak of a third war, one fought piecemeal, with crimes, massacres, destruction."
War is irrational, the pontiff added. "Its only plan is to bring destruction: it seeks to grow by destroying," he said. "Greed, intolerance, the lust for power. These motives underlie the decision to go to war and they are too often justified by an ideology..."
At the mass, the pope also condemned "plotters of terrorism" but did not name any specific terror group.