Pope Francis Says There's a Place for Pets in Heaven, While Conservative Catholics Preach Animals Have No Souls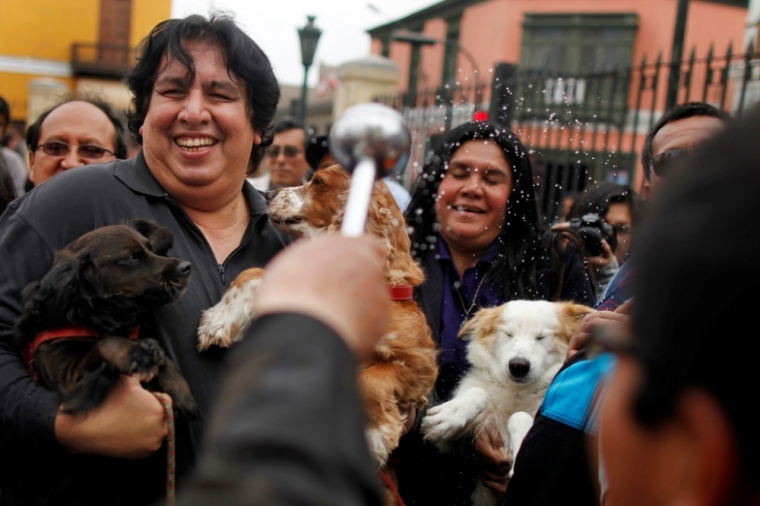 Pope Francis sent ripples around the world Wednesday when he suggested that pets and other animals have a place in heaven, which is in stark contradiction to conservative Catholic teaching that animals don't have souls.
Seeking to console a young boy who recently lost his dog, Pope Francis assured him during his weekly address that he would be united with his pet in heaven.
"One day, we will see our animals again in the eternity of Christ. Paradise is open to all of God's creatures," the Pope said, according to Italian news sources.
Theologians, however, argued that Pope Francis' words should not be taken as a doctrinal statement, as he had spoken casually.
The Rev. James Martin, a Jesuit priest and editor at large of America, the Catholic magazine, told The New York Times he believed that Pope Francis was at least saying, "God loves and Christ redeems all of creation," despite conservative Catholic teachings to the contrary.
"He said paradise is open to all creatures," Father Martin told the Times. "That sounds pretty clear to me."
The issue of whether or not animals have souls has been a controversial issue in the Catholic Church for a long time, and Pope Francis' comment appears to have opened up that debate once again.
Now animal rights activists appear ready to take the pope's endorsement.
Christine Gutleben, senior director of faith outreach at the Humane Society of the United States, the largest animal protection group in the United States, told the Times that "If the pope did mean that all animals go to heaven, then the implication is that animals have a soul. And if that's true, then we ought to seriously consider how we treat them. We have to admit that these are sentient beings, and they mean something to God."
Sarah Withrow King, director of Christian outreach and engagement at PETA, told the Times that while she's "not a Catholic historian, PETA's motto is that animals aren't ours, they're God's." King also said she believes the pope's comment could inspire Catholics to stop eating meat.
Dave Warner, a spokesman for the National Pork Producers Council, told the Times that the pope's statement is being misinterpreted.
"As on quite a few other things Pope Francis has said, his recent comments on all animals going to heaven have been misinterpreted," Warner asserted.
Pointing to passages in Genesis, Warner noted that the pope's words: "Certainly do not mean that slaughtering and eating animals is a sin." Man, he explained, was given "dominion over the fish of the sea and over the birds of the heavens and over every living thing that moves on earth."
"While that 'dominion' means use for human benefit, it also requires stewardship — humane care and feeding — something all farmers who raise animals practice every day of every year," Warner added.