Pope Francis Asks Forgiveness for Vatican 'Scandals;' Speculations Surround Priest's Encounters With Male Sex Workers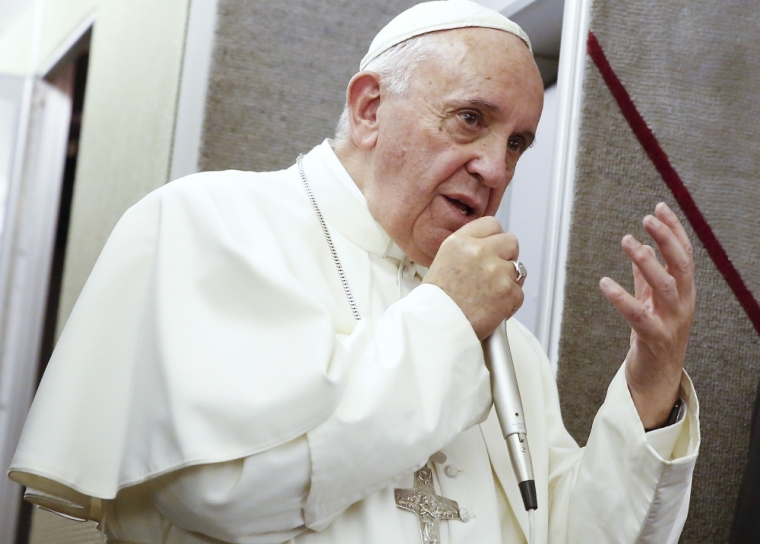 Pope Francis asked the faithful for forgiveness on Wednesday at St. Peter's Square for "scandals" that have shaken the Vatican, leading to speculation about which instances he is referring to. Some publications have suggested Francis is apologizing for a priest who had encounters with male sex workers at a parish near Rome.
"Before I begin the Catechism, in the name of the Church, I want to ask you for forgiveness for the scandals that have occurred recently either in Rome or in the Vatican. I ask you for forgiveness," Francis told the thousands before his weekly address, BBC News reported.
He added: "The Word of Jesus is strong today, woe to the world because of scandals. Jesus is a realist. He says it is inevitable that there will be scandals. But woe to the man who causes scandals."
Vatican spokesman Federico Lombardi admitted that the pope's apology was "broad and generic," but suggested the scandals that are being alluded to concern the "responsibility of men of the Church."
The Guardian suggested that the Roman Catholic Church leader is referring to a scandal in Italian media last week about a priest serving at a parish in Rome, who was exposed by parishioners of having had encounters with "vulnerable adults."
The clergyman, who wasn't named, is accused of having visited an area of an adjacent park frequented by male sex workers, where the encounters took place. Parishioners also voiced their anger that the priest was sent to another part of Italy instead of being disciplined by the Church.
BBC's David Willey suggested Francis could also be referring to the scandal surrounding Vatican theologian Krzysztof Charamsa, who was stripped of his doctrinal duties earlier in October after he revealed he was a practicing homosexual, and accused the Church of holding a "backwards" attitude on homosexuality.
During his trip to the U.S. back in September, Francis took time to meet with five adults who had been abused by Catholic clergy as children, and said that he is "overwhelmed with shame" at the crimes that were committed.
"I hold the stories and the suffering and the sorrow of children who were sexually abused by priests deep in my heart. I remain overwhelmed with shame that men entrusted with the tender care of children violated these little ones and caused grievous harm. I am profoundly sorry. God weeps," Francis said at St. Charles Borromeo Seminary in Pennsylvania.
Speaking more about scandals in his speech on Wednesday, Francis said that they arise from broken promises.
"Pope Francis continued his catechesis saying that the Church, too, through Baptism, makes promises to our children," the Vatican Radio reported.
"He said that in experiencing human love, each child comes to sense the presence of a God who loves children, and he urged all parents and care-givers to foster this mysterious relationship by leaving room for God in their young lives," it added.