Pope Francis Warns Against Blurring Gender Differences: It's 'Not Right'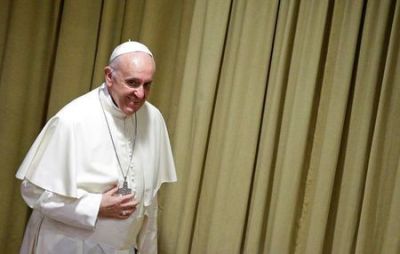 Pope Francis has warned against societies blurring the differences between men and women, noting that using science or other means to do so is "not right."
At a speech before the Pontifical Academy for Life's general assembly on Thursday, the head of the Roman Catholic Church spoke about the importance of "the covenant between man and woman."
"The biological and psychological manipulation of sexual difference, which biomedical technology now presents as a simple matter of personal choice — which it is not — risks eliminating the source of energy that nourishes the covenant between man and woman and makes it creative and fruitful," stated the pontiff.
"... to radically eliminate any difference between the sexes, and, as a result, the covenant between man and woman, is not right."
Francis went on to stress the importance of the relationship between man and woman, emphasizing the importance of communication and community.
"Man and woman are called on not only to speak about love, but to speak to each other, with love, about what they must do to ensure that our lives together can be lived in the light of God's love for every creature," continued Francis.
"Speak to each other, ally with each other, because neither man nor woman can shoulder this responsibility without the other."
The pope's comments come as part of the 23rd General Assembly of the Members of the Pontifical Academy for Life, which was held Oct. 5-7 at Vatican City.
Founded by Pope John Paul II in 1994, the Pontifical Academy for Life's stated mission is for "the promotion and defense of human life, especially regarding bioethics as it regards Christian morality."
The theme for this year's general assembly is an examination of the influence of modern technology on humanity at every stage of life.
This is not the first time that Pope Francis has criticized changing or blurring gender differences. In August, the pontiff told a group of Polish bishops that having children choose their own gender identity was contrary to God's will.
"Today, children are taught this at school: that everyone can choose their own sex. And why do they teach this? Because the books come from those people and institutions who give money," stated Francis last summer.
"God created man and woman; God created the world like this and we are doing the exact opposite."