Pope Francis Will Not Appoint First Female Cardinal in Catholic Church History; Vatican Rebukes Rumors
While Catholic Scholars Speculate on Possibility, Vatican Says It's Not Happening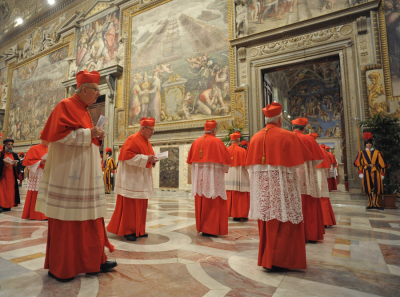 Despite speculation by the media and a number of Catholic scholars that Pope Francis could name the Church's first female cardinal next February, the Vatican has rebuked those claims, saying that the unprecedented event will not take place.
"This is just nonsense . . . It is simply not a realistic possibility that Pope Francis will name women cardinals," Fr. Federico Lombardi, a senior Vatican spokesman told The Irish Times.
"Theologically and theoretically, it is possible," he added. "Being a cardinal is one of those roles in the church for which, theoretically, you do not have to be ordained but to move from there to suggesting the pope will name women cardinals for the next consistory is not remotely realistic."
This follows Lombardi's comments last week when he stressed to the public that they should expect nothing out of the ordinary come February.
"Stay calm, no nomination of women cardinals are due," Lombardi said.
The heightened speculation comes at a time when Pope Francis has publicly addressed the Catholic Church's need to develop "a truly deep theology of women," but has refrained from publicly elaborating on any structural changes that would install women in the Catholic Church's leadership apparatus.
"I suffer – speaking truthfully! – when I see in the Church or in some ecclesial organizations that the role of service that we all have, and that we must have - but that the role of service of the woman slips into a role of "servidumbre" [Spanish: servitude]. . . But when I see women that do things out of "servitude" and not out of service," said Pope Francis in a radio address at the beginning of October. "And that it is not understood well what a woman ought to do. Can she be valued more? It is a reality that is close to my heart and for this I wanted to meet … and bless you and your commitment. Thank you, let us move this forward together!"
In the midst of the lack of papal "clarity" on what this "theology of women," will look like, some have already began to fill in the blanks. In September, in an op-ed in the Spanish newspaper "El Pais," Catholic scholar Juan Arias, a former Brazilian priest, hinted that Pope Francis might circumnavigate a 1917 church law forbidding women from becoming cardinals.
"Knowing this Pope, he wouldn't hesitate before appointing a woman cardinal," Arias wrote, quoting an anonymous priest reportedly close to Pope Francis. "And he would indeed enjoy being the first Pope to allow women to participate in the selection of a new pontiff."
Most recently, multiple media reports suggested this weekend that Irish theologian, Linda Hogan, could be chosen by Pope Francis for the role. Hogan currently works as the vice provost of Trinity College in Dublin, is a founding member of the International Association of Catholic Social Thought, and the author of Feminist Catholic Theological Ethics: Conversations in the World Church.
Former broadcast journalist and Roman Catholic deacon, Greg Kandra, dismissed the reports as nothing more than the media overreacting to a Facebook post.
"The only source cited for these reports is Fr. James Keenan, SJ, who posted on Facebook his personal suggestions for a woman cardinal; he included Hogan prominently on his list of contenders, along with Sister Teresa Okure, a theology professor at the Catholic Institute of West Africa in Nigeria, and Maryanne Loughry, associate director of the Jesuit Refugee Service in Australia," wrote Kandra on his blog.
"This amounts to little more than wishful thinking and an educated guess," he added.