Pope: Marriage Is Only Between a Man and a Woman, 'We Cannot Change It'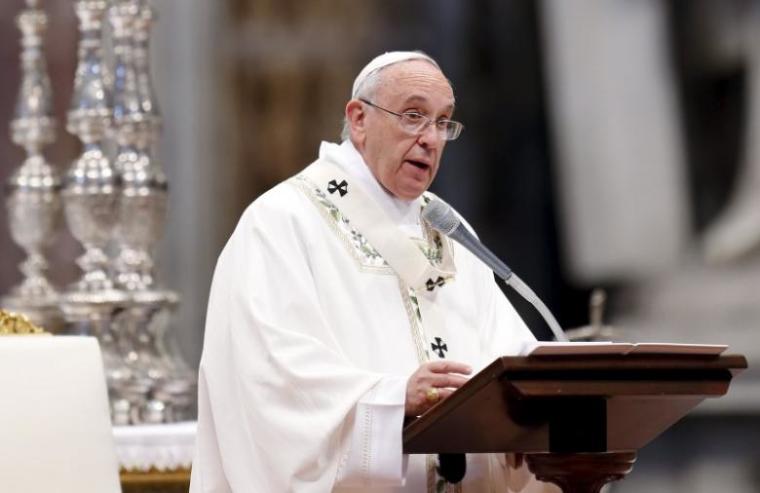 Pope Francis has reiterated his belief that marriage can only be defined as a union of one man and one woman, explaining that "we cannot change it."
In a series of interviews with French sociologist Dominique Wolton that was published Wednesday in a book whose title translates to "Politics and Society," the pontiff reaffirmed Church teaching on marriage.
"We cannot change it. This is the nature of things," explained Francis regarding the traditional biblical definition for marriage, adding that gay marriage should be "civil unions."
Francis also maintained the Church's teaching on abortion, referring to the procedure as "murder of an innocent person." He added that women who've had abortions can be forgiven, stating that "if there is sin, forgiveness must be facilitated."
"Teaching children that they can choose their gender, he said, also plays a part in fostering such mistakes about the truth or facts of nature," reported Catholic News Service, which got an advanced copy of the book.
"The pope said he wondered whether these new ideas about gender and marriage were somehow based on a fear of differences, and he encouraged researchers to study the subject."
Not long after becoming pope in 2013, Francis garnered widespread attention for stating that if a Christian was homosexual, he was OK with that.
"If someone is gay and he searches for the Lord and has good will, who am I to judge?" Francis told reporters in an informal interview.
While some argued that the "Who am I to judge" statement was a sign that the Church was changing its position on homosexuality, others noted that Francis' remarks were taken out of context.
Since then, Francis has made the occasional public statements showing that he was not moving the Church to become more pro-LGBT.
For example, in 2014 at an address before a Church group known as a Colloquium, he spoke about the need for strong families and to recognize "man and woman" as the "root of marriage and family."
"It is fitting that you have gathered here in this international colloquium to explore the complementarity of man and woman," the pontiff said in 2014.
"This complementarity is at the root of marriage and family, which is the first school where we learn to appreciate our own and others' gifts, and where we begin to acquire the arts of living together."