Popular Christian Singer Crowder Taunts Satan on 'Fox & Friends' With Song 'Run Devil Run' (Watch)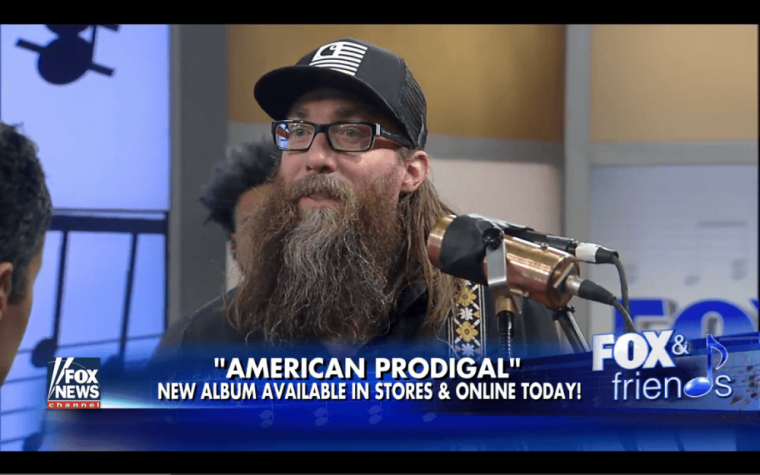 Grammy nominated singer Crowder stopped by "Fox & Friends" last week and sung his new song, "Run Devil Run," which is a song dedicated solely to taunting Satan.
Before the edgy performance, Crowder talked about his new album, American Prodigal. He revealed that he stayed up until midnight waiting for the release of his new record. When asked about his album title and his patriotism, the worshipper says he "loves" being an American.
"It couldn't fall at a better time with all the conversations being what they are right now," he said of his album.
Once the performance started, Crowder is heard repeatedly provoking the enemy of his soul, telling him he must flee. In the hook he sings, "Run devil, run devil, run devil run."
The folktronica rock song is cleverly written and it's not clear until the bridge what exactly the popular worshipper is referring to while talking to the devil.
"I got the King of kings and the Lords of hosts
I got angel armies and a Holy Ghost
I got spirits here that are tried by fire
I got a valley of bones that came alive
I got a cross, a hill, and an empty grave
I got a trumpet sound and one sweet name
Shake the gate of hell, the sinners and dogs
I got my Jesus and the devil gotta run," Crowder shouts in victory.
See Crowder's performance on Fox & Friends below.
"'Run Devil Run' has a lot of the overall attitude of the album shoved into one place," Crowder said in a statement shared with The Christian Post.
Following the debut of his newest 17 track album, American Prodigal, Crowder embarked on a nationwide "American Prodigal Tour," featuring Tedashii and The New Respects. The tour kicked off in over 20 markets from the West Coast to East Coast running September through November.
Crowder's music video for "Run Devil Run" has over half a million views on Youtube and features a Smokey & The Bandit car chase turned swamp race outside of New Orleans. The exciting video was showcased not only by Christian platforms but country networks as well, such as GAC, AXS, The Country Network and more.
The Texas native has since released another single off the album titled "My Victory" and it is currently in the top 20 at National Christian Audience.
For more information on Crowder or American Prodigal visit crowdermusic.com
Follow Jeannie Law on Twitter:
@jlawcp