Pregnant Woman Hit By Tow Truck, Wakes From Coma to Give Birth; Unemployed Couple Says 'God Bless' to Donors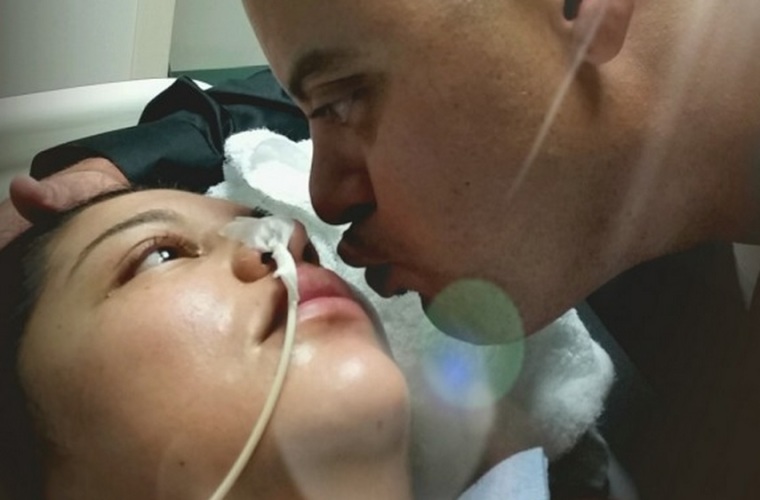 A Florida man is celebrating after his pregnant wife woke up from her two-week coma to give birth to their baby girl.
"From day one, none of this was expected," Angel Quiles told local TV news station KTVU. "I thought I was I was going to lose my wife. I thought I was going lose my baby. And here we are celebrating the fact that the baby is born and Jenny is doing a lot better today."
Quiles' wife, Jenny, was struck by a tow truck October 15 as she crossed the street to attend a doctor's appointment. Though Jenny successfully shielded her stomach from the impact, she suffered a traumatic brain injury. She was 7 months pregnant at the time.
Doctors put the would-be mom in a medically-induced coma and were making plans to perform a C-section delivery in several weeks. Those plans were canceled when Jenny woke up after 19 days.
"She was in labor and she was trying her hardest to let it be known," recalled Quiles.
Baby, Angel Noemi Quiles, was born November 3 weighing 6 pounds. Her mother remains alert. "When Jenny gets out of this I'm going to tell her thank you, thank you ten thousand times. If it wasn't for her protecting the baby at the time, we wouldn't have the baby or this conversation right now," Angel said.
Things remain tough even though the Quiles situation is improving. Jenny is still in intensive care. He also announced on a Go Fund Me page dedicated to Jenny that they are now unemployed.
The page reads, "She is out of work and [I am] also out of work due to being at her bedside at the hospital day & night."
Still Quiles remains optimistic about the future, "My hope is to see Jenny hold her baby girl and do what moms do best," he said.
He thanked supporters who have raised $21,173 for their family saying, "God Bless You all in abundance."