President Trump to Advocate for Peace, Religious Tolerance in First Overseas Trip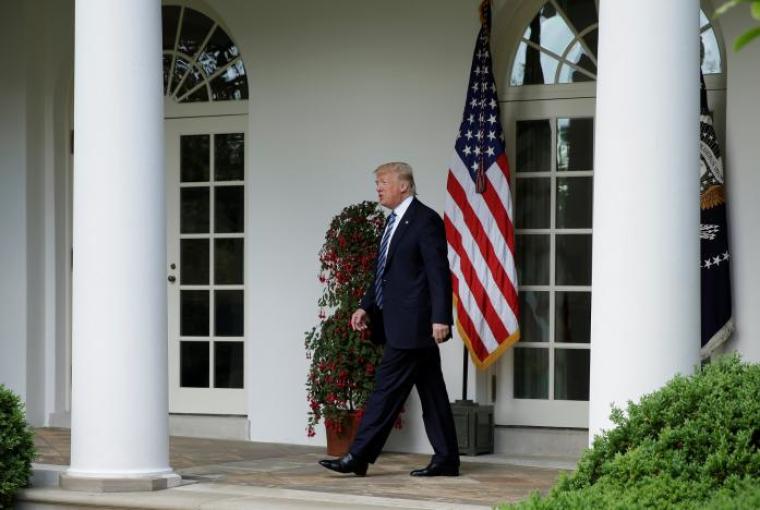 On his first international trip next month, President Donald Trump will "broadcast a message of unity … to the faithful of three of the world's greatest religions" and seek to strengthen American alliances, U.S. national security adviser Gen. H.R. McMaster said Friday.
Trump's scheduled trip to the Middle East and Europe next week has three core purposes, McMaster said during the White House press briefing. "First, to reaffirm America's global leadership. Second, to continue building key relationships with world leaders. And, third, to broadcast a message of unity to America's friends and to the faithful of three of the world's greatest religions."
Building strong relations is a priority for the president, McMaster added. "President Trump understands that America First does not mean American alone — to the contrary. Prioritizing American interests means strengthening alliances and partnerships that help us extend our influence and improve the security of the American people."
Saudi Arabia will be Trump's first stop. "He will encourage our Arab and Muslim partners to take bold, new steps to promote peace and to confront those, from ISIS to al Qaeda to Iran to the Assad regime, who perpetuate chaos and violence that has inflicted so much suffering throughout the Muslim world and beyond," McMaster continued.
Earlier this week, Trump talked about his upcoming trip, saying, "Our task is not to dictate to others how to live but to build a coalition of friends and partners who share the goal of fighting terrorism and bringing safety, opportunity and stability to the war-ravaged Middle East."
Trump will then travel to Israel. "With President Rivlin and Prime Minister Netanyahu, he will reaffirm America's unshakeable bond to the Jewish state. With President Abbas, he will express his desire for dignity and self-determination for the Palestinians. And so to leaders and peoples alike, across the entire trip, he will demonstrate his hopes for a just and lasting peace," the security adviser said.
McMaster called the trip "truly historic," noting that "no president has ever visited the homelands and holy sites of the Jewish, Christian, and Muslims faiths all on one trip." The president, he added, "is seeking is to unite peoples of all faiths around a common vision of peace, progress, and prosperity. He will bring a message of tolerance and of hope to billions, including to millions of Americans who profess these faiths. The president will focus on what unites us."
In Rome, Trump will meet Pope Francis. "He looks forward to paying his respects and to discussing religious freedom, ways to combat religious persecution, human trafficking, and cooperating on humanitarian missions across the globe," McMaster said. Trump will also meet with President Mattarella, "the head of state and one of America's most important treaty allies and trading partners. He will also see again Prime Minister Gentiloni, who is hosting the G7 conference in Sicily."
The president will then visit Brussels for the NATO Leaders meeting, and "reaffirm America's commitment to the alliance while stressing the need for members to pay their fair share, to shoulder responsibility, to share burdens, and for the institution to continue on the path of strengthening the alliance."
Trump will end his trip in Sicily for the G7 meeting in Taormina, where he will promote American economic leadership and also address unfair trade practices. "He will remind our friends and partners that we are eager to explore further ways to address threats to our mutual security, from North Korea to Afghanistan to the broader Middle East."