Pro-life leader accuses Wheaton of 'demonizing a fellow evangelical' after talk on race and abortion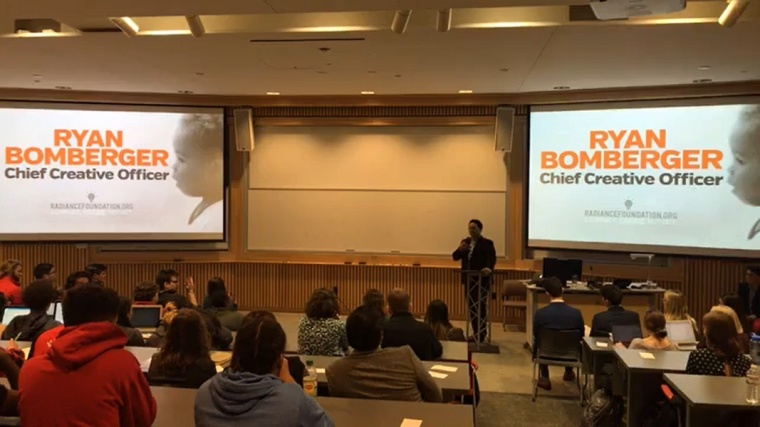 Update Appended
A black pro-life activist has hit back at the student body leaders of the Christian Wheaton College after a school-wide email positioned that a recent talk of his made students feel "unsafe" on campus.
The controversy stemmed from a speech Ryan Bomberger of the The Radiance Foundation delivered at Wheaton called "Black Lives Matter, In and Out of the Womb" on November 14, which was organized by the Wheaton College Republicans.
Student leaders claimed that Bomberger made several comments at the time that "deeply troubled members of the community," making "many students, staff and faculty of color — feel unheard, and unsafe on our campus."
The assertion was spread through a campus-wide email sent from student government leadership and the Student Activities Office.
Bomberger told OneNewsNow on Tuesday that criticism against him stems from the fact that he is "black, biracial," and "didn't tow the liberal racial line."
"The great thing is there is an online version of the talk from Wheaton — so it's all recorded," he added, linking to the speech on Facebook.
"Yet people who opposed me had no problem — just completely making up things that were never said … distorting things that were said, and Wheaton administration has done nothing to stop these defamatory statements."
The Wheaton Record claimed last week that part of the comments that raised concerns revolved around U.S. President Donald Trump and the Ku Klux Klan. Bomberger was asked why, as a black man, he voted for Trump, despite the latter being endorsed by the KKK's former Grand Wizard David Duke, the Wheaton Record said. (Bomberger disputes this. See update below.) 
Bomberger told the Record that the KKK is "irrelevant today, largely irrelevant."
"They are nothing like the KKK of the past. I said they are a clown-outfit organization that's not [as] centralized [as] it used to be, it's not the terrorist organization it used to be, [and] it does not have the power that it used to have. I said there are bigger threats to the black community today than the KKK," the pro-life leader explained.
Bomberger further posted last week on Facebook a screenshot of his email to Wheaton, where he accuses student body representatives of trying to intentionally mislead students about his speech.
"As is typical with 'progressivism,' one needs only to make the claim of offense without allowing people to examine the alleged 'offense.' The Dean of Student Engagement, Steve Ivester, came up to me after the event and praised me for the way in which I approached such heavy issues. But it seems that only some people's opinions matter," he wrote.
He later asked: "How are we representing Christ when we demonize a fellow Christian evangelical whose heart is for Christians to better understand the context of driving social issues and take more responsibility for the rhetoric and actions we employ?"
Student body president Lauren Rowley insisted, however, that the goal of the email was to "acknowledge that there was hurt on our campus, to remind the campus community of our commitment to ethnic diversity and to inform the student body that we'd be moving forward with future conversations."
Rowley added that the controversy could serve as "an opportunity for growth both in the areas of how we talk about race and also how we respect other viewpoints that might differ from our own."
A spokesperson for Wheaton College told The Christian Post in a Tuesday email that it's "unfortunate that Mr. Bomberger is having a difference of opinion with some students."
"Elected student leaders wrote and sent a message to their student peers regarding Mr. Bomberger's recent talk at Wheaton. The College's administration did not send any message to students about Mr. Bomberger's visit," the spokesperson added.
"The fact is, college students are exposed to a variety of ideas, and sometimes they disagree and keep talking to each other about what they've heard — that's a big part of education, in and out of the classroom."
The Wheaton College representative disputed Bomberger's claims that he has been ignored by Wheaton's administration.
"The Radiance Foundation e-mailed a threat to sue three college students, and blind-copied a few College employees. This was followed by a second e-mail, this time addressing several employees, blind-copying a few others. At that point, Wheaton administrators reached out to the Bombergers directly to hear their concerns," Taylor continued, adding that an informal, confidential, off-the-record conversation was scheduled.
"Shortly before the call, the Bombergers insisted that a Radiance Foundation board member join, or they would not participate in the conversation," she told CP.
Bomberger posted a new article on the Radiance Foundation website on Tuesday, claiming that he is being smeared.
As for the off-the-record conversation, he said that Wheaton reps refused to talk at all after the request that a Radiance Board member joins in.
"The school administration chose not to pursue a Matthew 18 model of conflict resolution and allowed a fellow evangelical Christian to be slandered and treated like the enemy. They could've made this a powerful learning opportunity for the entire school," Bomberger positioned.
Update, December 5, 2018: After publication Ryan Bomberger contacted The Christian Post to say that 1) he was not just criticizing student leaders but also the school due to the involvement of administrators Peter Hansen and Crystal Cartwright in the Student Activities Office, 2) his email was sent to many administrators, not just a few employees, and "Wheaton is deliberately misleading the public on the fact that administrative officials were part of enabling and approving the letter to be sent out," 3) He was never asked why he voted for Trump during his presentation and one student questioner was under the misimpression that he was an ardent Trump supporter. (For more on what Bomberger said about the KKK, see his blog post here.) 4) Student Body President Lauren Rowley has critiqued the presentation but was not in attendance. 5) There was no lawsuit threat, rather, the wording was, "We will pursue a discussion with your school's administration/leadership and our attorneys at which time we will decide whether or not to take legal action against this defamation." 6) Emails (which Bomberger shared with CP) show that Wheaton canceled the off-the-record phone conversation after Bomberger asked, "What is your reservation about having one of our Board members on this off-the-record call?"