'Pro-Life Nation' Calls on Body of Christ to Expose US 'Abortion Cartel' (VIDEO)
Operation Rescue, a leading pro-life Christian activist organization, has launched Pro-Life Nation – an initiative seeking to unite grassroots organizations to put an end to abortion and expose the truth about the U.S. "abortion cartel."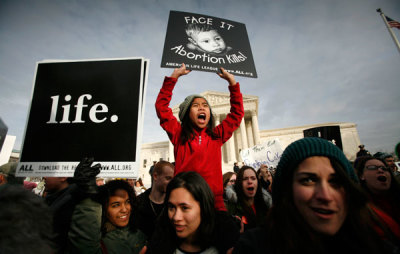 "It's a goal and it's a mission statement," Operation Rescue President Troy Newman told The Christian Post. "We have not only become a pro-life nation, but we're abortion abolitionists as well."
"We believe that with the current climate in America, abortion could be eliminated very soon, if a goal-oriented strategy is employed that includes cooperation among various pro-life organizations and individuals," Newman, who is also president of Pro-Life Nation, said seperately in a released statement. 
According to Prolifenation.org, many pro-life organizations do not share the exact same vision, which makes it difficult for everyone to work together. However, the Bible offers the illustration of the body having many different members working together to make a functioning person. These different ministries, all with different functions, are necessary "if a unified strategy to end abortion is to succeed," reads the Pro-Life Nation booklet.
"We are excited to take the next step into expanding new, effective tactics that Operation Rescue has pioneered," Newman stated. "While we will maintain Operation Rescue as our activist arm, most of our investigations will be conducted under the new Pro-Life Nation banner."
He added, "Through Pro-life Nation, we will enlist pro-life supporters across the nation to work together in new ways to expose and report abortion misdeeds, hold officials accountable for enforcing our laws, and build a society that is truly a Pro-Life Nation."
Pro-Life Nation Fighting Against Abortion
Oftentimes despite the varying direction of Christian churches, they still come together to make a statement – whether it is political or otherwise – and the same needs to be done with the pro-life movement, Newman told CP. "To work together in the spirit of unity to save the lives of innocent children, looking for common thread to reach that common goal" is what needs to happen, he said.
Prolifenation.org points to research that reveals Americans are becoming more pro-life, with 71 percent of Americans opposed to taxpayer-funded abortions.
Meanwhile, there has been a significant decrease in abortion clinics. In 1991, there were 2,176 such facilities. However, today there are 663. Pro-Life Nation cites that since 1991, 70 percent of all abortion clinics in the U.S. have permanently closed.
The movement's first project is AbortionDocs.org, a searchable database that lists every abortionist, surgical abortion clinic, and "abortion pill-only" clinic in the U.S.
Based on its research, Pro-Life Nation has determined that abortion is a failing industry. The organization, along with other pro-life groups, is working to expose abortion clinic malpractice.
"Pro-life Nation and its inaugural project, AbortionDocs.org, are new works in progress, and include plans to expand the Pro-Life Nation website very soon," said Newman. "We encourage everyone to visit the websites, sign up for updates, follow us on Twitter and Facebook, and contribute information about your local abortion clinic to the AbortionDocs.org database."
The website lists four main elements to get the ball rolling for a 100 percent pro-life nation: Research & Exposure, Use Information to Advance the Plan on Key Fronts, Demand Enforcement, and Connectivity and Sense of Community.
"We face this next chapter with great anticipation and energy, and look forward to working with more wonderful pro-life people than ever to see America move closer to the day when abortion is abolished once and for all," Newman stated.