Professor Conducts Libation to Summon Spirits of Blacks Killed by Police in Hollywood Church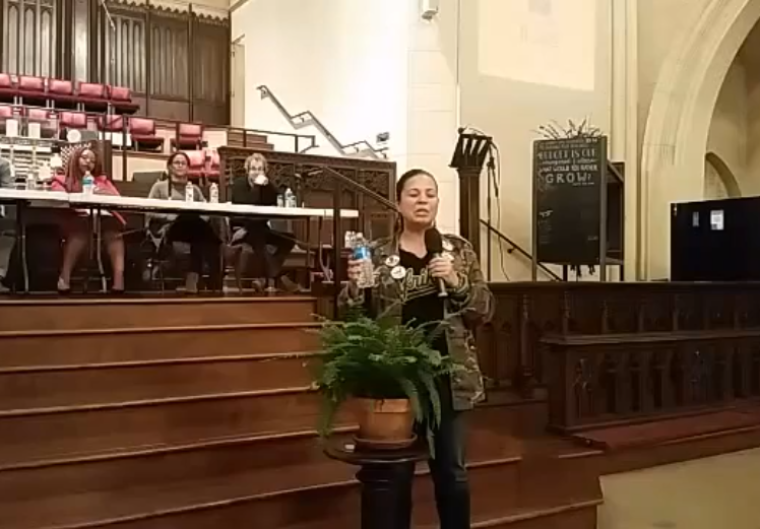 Dr. Melina Abdullah, professor and chair of Pan-African Studies at California State University, recently conducted a libation ceremony inside the Hollywood United Methodist Church to summon the spiritual energy of dead civil rights leaders and other blacks who died at the hands of police officers.
Author and Christian scholar Dr. Hamilton Ayuk argued on his blog that the pouring of libation to honor any spirit other than the God of the Bible is contrary to Scripture.
Speaking at the church where advocates had gathered to discuss their opposition to a $3.5 billion jail expansion plan in Los Angeles County along with the issue of mass incarceration, Abdullah, who is one of the original organizers of the Black Lives Matter movement, argued that because the issue of mass incarceration was also a spiritual struggle, it was important to conduct the libation ritual to summon the energy of those who had died in the struggle for civil rights.
"This is not just a social justice, a racial justice, an economic justice struggle," Abdullah said. "This is also a spiritual struggle, so it's appropriate that we're here in this setting (a church). And it's also important that we summon the right energy into this space no matter what faith you are. We have to understand what the struggle is about."
She continued: "Making sure that jails don't expand is a first step. We don't want cages at all. Our people don't belong in cages at all. And we understand that there is a direct relationship, our ancestors demand that we engage in this work because as an African person in this country we know we were brought over here as chattel and once they banned the slave plantations, many of those plantations were warped into prisons so they continue to enslave us. So this is ancestral and spiritual work that we must do. So we are going to pour libation in the names of our ancestors, in the names of those who struggle right now."
She then proceeded to pour what appeared to be bottled water as she summoned the energy of the dead while declaring "ashe."
"We summon those spirits that are still with us. We summon those people whose bodies have been stolen, but whose souls are still here," she said. "We call on Wakiesha Wilson. We call on George Jackson ... Eric Garner ..."
"And all of those whose bodies have been stolen: We ask that you be with us. We ask that you work through us. We ask that we do righteous work on your behalf," Abdullah continued inside the church.
"We call on Martin Luther King into this space. Brother Malcom [X], we call you into this space. Ashe. ... Nat Turner, into this space. Ashe. Mother Harriet Tubman. Ashe. We call you all into this space. We ask that you work through us. That you give us power; that the Creator give us power when we come together. This victory is assured. Ashe. Ashe. Ashe," she ended.
The practice of libation is a common practice in some African-American churches like Unity Fellowship Church of Baltimore where they conduct the ritual to "honor the ancestors. Those who in one way or another helped us to get to where we are today."
According to Dr. Ayuk, however, while libation can be found in the Bible it was "done as a form of worship to God and not gods."
Heathens, he said, "copied the practice and when Israel strayed from God, they took the ritual to heathen gods" and most African communities currently pour libation as a part of their tradition.
"The practice is said to have begun in Israel when Jacob intended to appease God with a drink offering and oil (Gen 35:14). Although from Genesis 1-35 there is a mirror that captured the culture of the surrounding nations, there is no indication any of them performed the ritual before this time," Ayuk wrote.
"Drifting away from God has nefarious consequences. Perhaps that is why most African countries entrenched in ancestral worship are backwards because they seem to invite more the wrath rather than the favor of God. From Africa to Asia, Latin America to Europe and North America to Central America, there is enough evidence that abandoning the ways of God will fetch us disaster now and hell fire in the world to come," Ayuk added.