Trump Has Become 'Moral Definition' of the Religious Right, Jim Wallis Warns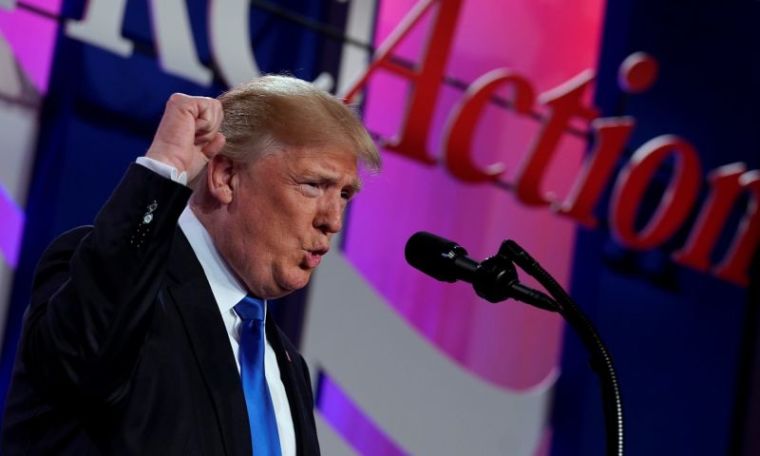 President Donald Trump has become the "moral definition" of the religious right movement, progressive evangelical activist Rev. Jim Wallis has claimed, denouncing the president's warm reception at a Christian conservative summit in Washington, D.C. earlier this month.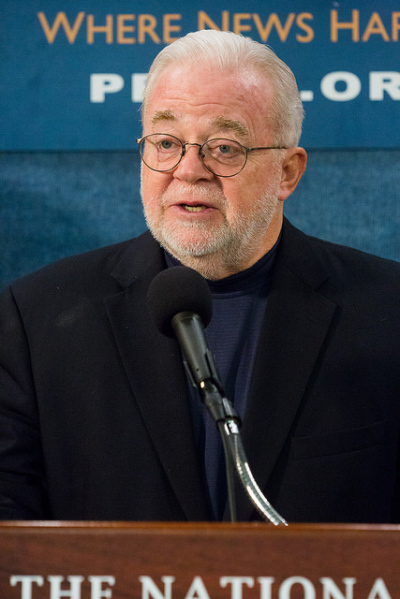 Wallis, the 69-year-old founder of the left-leaning Christian social justice organization Sojourners, took to the Sojourners website on Thursday to express his frustrations with evangelical conservatives who gathered at the Family Research Council's Values Voters Summit and greeted Trump with a standing ovation when he became the first president ever to speak at the annual event on Oct. 13.
"President Donald Trump is the logical hero for the 'religious right,' judging by how he was welcomed to their Values Voter Summit last weekend. These Christians rallied around the billionaire playboy, political bully, ethno-nationalist, and purveyor of racial bigotry," Wallis wrote. "As a result, he has become the moral definition of their movement."
Wallis pointed out that one of the longest applauses Trump received during his speech at the summit was when he stated that "We respect our great American flag."
"Those standing and shouting 'USA! USA!' were making a clear statement against black athletes who have been protesting racial injustice and police brutality during the national anthem," Wallis, who has also claimed that people who oppose NFL players kneeling during the anthem are more "white" than "Christian," stated.
Wallis also criticized the invite of Breitbart Executive Chairman Steve Bannon, whose website is seen as a platform for alt-right views. Bannon is a former White House chief strategist and also headed the final months of the Trump 2016 presidential campaign.
During his speech before the evangelical crowd on Oct. 14, Bannon declared that economic nationalism is the "centerpiece of value voters."
"Steve Bannon showed up, too, and his revivalist message of economic and cultural nationalism also wowed the crowd, with an altar call to make 'war' on the Republican establishment, because 'you are the transmission of the best values of the Judeo-Christian West,'" Wallis wrote.
"Bannon's far-right media platform makes clear what the racial implications of this cultural nationalism are. Of course, the fact that Jewish and Christian values actually abhor the exclusion of other human beings, and hold every society accountable for how we treat the poorest and most vulnerable, was not mentioned," Wallis continued. "Muslims, of course, were also not mentioned, except for accusations of false religions and implied terrorist threats to America."
Bannon has claimed that his nationalist views have nothing to do with "race" or "religion," telling the Values Voters Summit that "it doesn't matter what your race is or ethnicity, your gender, your religion, your sexual preference. ... As long as you are a citizen of this republic, that's what matters."
However, Wallis stresses that the "America first" attitude exhibited by Bannon and other conservatives "is a theologically heretical statement."
"The body of Christ is the most international and racially diverse community on the planet, in keeping with the teachings of Jesus' Gospel," Wallis asserted.
"But that got passed over for another gospel — that of white American ethnocentrism, a worldview hateful of 'others' including immigrants, refugees, Muslims, and black athletes who take a knee."
Wallis cited MSNBC Host Joe Scarborough, a former Republican who left the party in 2017. Scarborough stated last week that "Donald Trump is the antithesis of just about every single thing that Jesus Christ said in the Sermon on the Mount."
Wallis also quoted the views of Michael Gerson, a former speechwriter and policy advisor to President George W. Bush.
"When Christians ally their faith with bias and exclusion, they are influencing how the public sees Christianity itself," Gerson wrote for The Washington Post. "They are associating the teachings of Jesus Christ — a globalist when it came to the Great Commission — with ethnonationalist ideology ... the faithful give standing ovations to the purveyors of division and prejudice. When anything takes priority over the faith, there is a good strong word for it: idolatry. And the word is unavoidable as religious conservatives carry their golden calf into Bannon's battles."
Although the likes of Gerson and Wallis have condemned the social conservative gathering for giving Trump and Bannon a warm welcome, the applause from many in the room might be due to the fact that the Trump administration has already fulfilled many of its promises to Christian conservatives on important social issues like abortion, religious freedom, and judicial nominations.
Yet, Wallis is not sold.
He cited research done in November 2016 by LifeWay Research which found that more white evangelicals considered the economy, national security and personal character of candidate as most important factors to them when voting in the election compared to those who said that abortion, religious freedom and the Supreme Court nominee were the issues most important to them when voting.
"But those 'moral issues' were not the main motivators for the white evangelical vote," Wallis claimed. "Instead, it was guns, taxes, how much they would make from the economy, anti-immigrant and anti-refugee sentiment, and anti-terrorist and anti-Muslim visions of national security."
Wallis questioned the political agenda of the Values Voters Summit, arguing that it "decisively showed how the religious right has set aside its own alleged moral values for a political leader who clearly has none at all."
Wallis neglected to mention in his op-ed that a sign posted at the Values Voters Summit stated: "The views expressed at these sessions are those of the sponsoring organization and each speaker and do not necessarily represent the views of FRC Action, FRC, or any other sponsor."
According to the Values Voters Summit website, the summit exists to "provide a forum to help inform and mobilize citizens across America to preserve the bedrock values of traditional marriage, religious liberty, sanctity of life and limited government that make our nation strong."
FRC President Tony Perkins was asked by The Christian Post about Bannon's invite to the summit.
"We have a lot of like-minded friends that, you know, we may not agree with on everything, but there is a moment of opportunity and we must seize the moment for those that are willing to help advance the cause of the type of candidates that we can be supportive of," Perkins said. "This is a platform of them."