Kellyanne Conway Tells Values Voters: Trump Respects and Elevates Women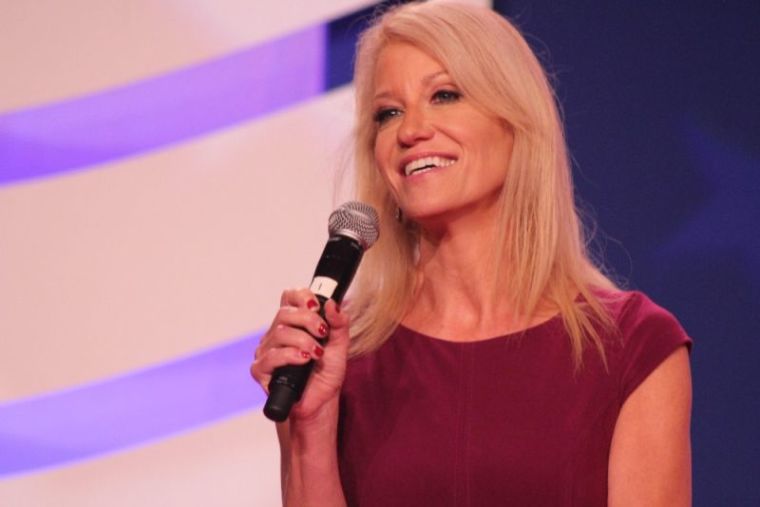 WASHINGTON — Counselor to President Donald Trump, Kellyanne Conway, told an annual gathering of Christian conservatives Friday that she loves working for Trump because he truly "respects" and "elavates" women before she criticized Hollywood producer and Democratic donor Harvey Weinstein for the sexual assault allegations against him.
Conway, who became the first woman to successfully lead a presidential campaign in 2016, participated in an on-stage interview during the Family Research Council's annual Values Voters Summit in which she was questioned by FRC President and well-known conservative activist Tony Perkins.
Perkins, who advocates for traditional marriage and pro-life stances, specifically asked the 50-year-old mother of four who formerly held a career as a prominent pro-life conservative pollster, what it's like to work for somebody who "understands the value and importance of family."
"That is the great untold story, I think, about the White House as a workplace," Conway, who was the CEO of The Polling Company, Inc./WomanTrend before she resigned to join Trump's campaign last year, responded.
Although Trump has long been criticized for his misogynistic attitudes and actions, Conway assured the crowd that the White House is a "workplace where working moms and certainly women are respected and elevated to the highest positions."
"This is a place where Donald Trump's just always been comfortable. He took a chance on women in New York real estate when no one else would," Conway, who initially supported Texas Sen. Ted Cruz in the 2016 Republican presidential primary, said.
"It is very comfortable and natural for Donald Trump ... to surround himself, to elevate and promote women to high positions and for him to always be very respectful, very respectful of who we are personally, what our home life is like, whether we are married or not, have children or not," she added. "He is always interested in the personal story of everyone. He is a great storyteller himself. So it is a wonderful way to engage with a boss."
Conway pointed out that Trump nominated Kirstjen Nielsen to be the next Secretary of Homeland Security on Thursday.
"Now we'll have two women, if she is confirmed, as the No. 1 and No. 2 at the Department of Homeland Security," Conway asserted.
"The thing about Donald Trump that I have never heard him say and he has never said to me is, 'I think this will help with the women.' Or, 'I think this is great because you are a woman.' He doesn't see it that way," Conway continued. "I think the identity politics that the other side is so wrapped up in is unfortunate and regrettable in many ways because you got to look at a person for who they are. We are very complex individuals in many different ways."
Trump also nominated current Secretary of Education, Betsy DeVos, to her position, as well as Ambassador to the United Nations Nikki Haley, Transportation Secretary Elaine Chao, and current Administrator of the Small Business Administration Linda McMahon.
Considering that much of the news in the past week has been centered around the numerous sexual assault and harassment allegations against Weinstein, Conway touched on the matter herself.
"I hear a lot of people on their soapboxes — the high horse cavalry, I call them — always talking about women's rights and women in the workplace and empowerment. I am in an environment where it is practiced regularly. I never felt otherwise," Conway explained. "I think there is a great juxtaposition right now. You see one of the major influencers in Hollywood and major Democratic donor really ensnared in some pretty ugly stuff allegedly. The juxtaposition of that — I am at least in a place where women are respected. I appreciate that as a working mom."
Conway's remarks come after she posted a tweet on Thursday praising Trump as "empowering women" after he nominated Nielsen to the DHS position.
She tweeted: "@POTUS continues his practice of elevating and empowering women to top positions."