Prosperity Gospel Preacher Paula White Prays for Donald Trump: 'Any Tongue that Rises Against Him Will Be Condemned'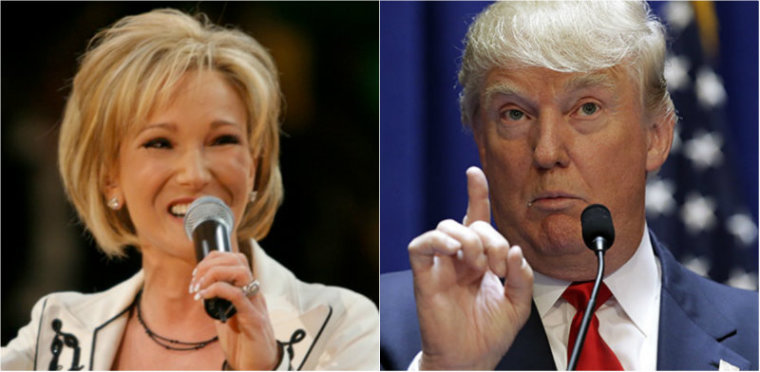 Florida megachurch pastor and prosperity preacher Paula White prayed for Republican 2016 presidential frontrunner Donald Trump, saying that "any tongue that rises against him will be condemned according to the word of God," and for "a greater encounter" with God.
"Father, we just secure him right now by the blood of Jesus. We thank you that no weapon formed against him will be able to prosper and any tongue that rises against him will be condemned according to the word of God," prayed White, a Florida evangelical preacher with a daily television show on The Word Network.
White was among several other selected Christian leaders and ministry professionals, who prayed for Trump, laying their hands on him, as shown in a video recently posted on YouTube.
"Even as we lay hands on him right now, let Your hand be laid upon him. Let him have a greater encounter with You, a greater encounter with the spirit of God," White went on to say in her prayer.
She referred to Ephesians 1:17,18, which reads, "I keep asking that the God of our Lord Jesus Christ, the glorious Father, may give you the Spirit of wisdom and revelation, so that you may know him better. I pray that the eyes of your heart may be enlightened in order that you may know the hope to which he has called you, the riches of his glorious inheritance in his holy people."
White, the senior pastor of New Destiny Christian Center in Apopka, Florida, a multi-cultural ministry founded in 1996 by late pastor Zachery Tims, prayed that Trump's eyes would be opened "to see the glory and the goodness of God," and added, "All the days of his life, let him live well. I secure him, I secure his children, I secure his calling and his mantle."
White was joined by Pastor David Jeremiah, pastor of Shadow Mountain Community Church, a megachurch in El Cajon, California; Southern Baptist megachurch Pastor Robert Jeffress, of First Baptist Dallas; TV personalities Jentezen Franklin, Steve Munsey and Clarence McClendon; and others in praying for Trump.