David Jeremiah Asks God to Send Donald Trump a 'Strong African-American' to Help Him With the Black Vote (VIDEO)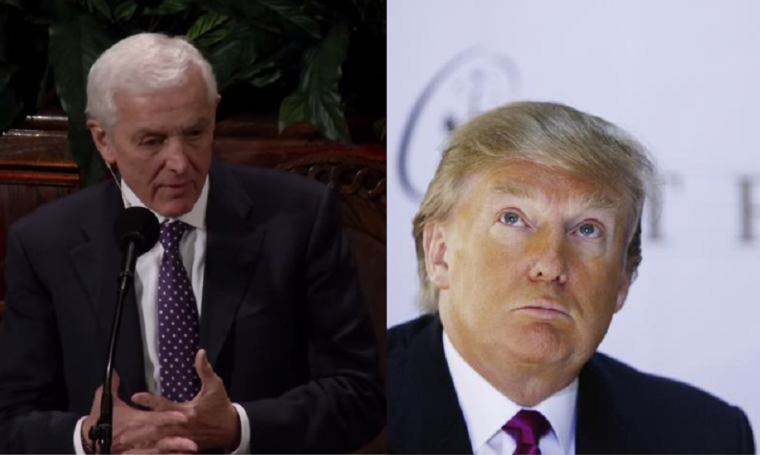 Perhaps looking to improve the Republican Party's woeful record in attracting African-Americans and other minority voters, Republican 2016 presidential frontrunner Donald Trump accepted an earnest prayer from conservative Evangelical Pastor David Jeremiah on Monday that God will send him a "strong African-American" to help him with the black vote.
Jeremiah who is pastor of Shadow Mountain Community Church, a megachurch in El Cajon, California, was among a group of about 40 religious leaders including well known TV personalities Paula White, Jentezen Franklin, Steve Munsey and Clarence McClendon who met with the billionaire real estate mogul at his office in New York City then laid hands on him in prayer for his success in the presidential race. Southern Baptist megachurch Pastor Robert Jeffress, of First Baptist Dallas, can be seen to Trump's left.
A video clip from the meeting posted to YouTube Wednesday (see below), shows Trump receiving those prayers with both his hands gripped firmly on what appears to be a Bible.
"Today we pray for Donald Trump. We pray for his family. We pray for his associates. We pray that what he has heard today from those who have spoken into his life, he will consider. Lord I pray you will bring into his life a strong African-American who can stand with him and represent that community so that his voice can be heard even in a stronger way there," declared Jeremiah.
Shortly before making that request of God he noted that Trump "not only says what he believes but is willing to put himself in jeopardy for what he believes and will help us economically and spiritually in every way in this nation."
After asking God to give Trump hope and direction, he noted, "Lord thank you for allowing us to be here for this special moment. Perhaps we'll look back on this day and remember that we stood together and we prayed over the next president of the United States."
On hearing that Trump is shown in the video quietly tapping Jeremiah's hand planted on his shoulder in apparent approval.
After Jeremiah, another pastor, standing behind Trump and not visible, prayed, "Father you said in Your Word, any man that lacks wisdom, let him ask of God ...."
In a Politico interview, Russell Moore, president of the Southern Baptist Ethics and Religious Liberty Commission, said Trump's Evangelical outreach was "mostly" to "prosperity gospel types, which are considered by mainstream evangelicals to be heretics."
Trump who has been publicly criticized by his political rivals for comments made about minority groups in the past, charged last Wednesday at a meeting of the Greater Charleston Business Alliance in South Carolina that he was the rare Republican who could win a sizable portion of the black vote in a general election according to a Newsweek report.
In making that statement, he cited a recent poll from SurveyUSA that showed him winning the support of 25 percent of black respondents in a face-off with Democratic frontrunner Hillary Clinton.
"Generally, Republicans do not do well with African-Americans," said Trump. "I have a lot of friends, African-Americans in New York, they say, 'You're going to get most of the vote.' I was actually disappointed with the 25 percent," he said.
Jeremiah's prayer, however, may have been a response to other polls like one from Quinnipiac University in August showing the billionaire getting just 3 percent of the black vote in a match-up with Clinton.
According to Newsweek, Republican presidential candidates have not fared very well with black voters in recent general elections. George W. Bush won 11 percent of black voters in 2004 and Mitt Romney won about 6 percent in 2012.
One black pastor, Mark Burns who owns the NOW Network in Easley, South Carolina and was present during the Monday meeting with Trump, said he was surprised by Trump's off-camera demeanor.
"It was a great honor to meet him and hear his heart without the cameras there and without people breathing down his neck," Burns told WYFF4. "He believes Christianity is under attack, and that's one ground and one stand that I most definitely stand with him on. You don't hear candidates speaking that or even bringing it up."
Other popular religious figures like Paula White who was the only noticeable female praying for Trump in the video, prayed for his protection and that he would have a "greater encounter" with God.
"Father, we just secure him right now by the blood of Jesus. We thank you that no weapon formed against him will be able to prosper and any tongue that rises against him will be condemned according to the word of God," White prayed as she held on to his hand.
"Even as we lay hands on him right now, let Your hand be laid upon him. Let him have a greater encounter with You, a greater encounter with the spirit of God," she said.
WATCH THE VIDEO OF THE PRAYERS FOR TRUMP BELOW: