Proverbs 29:9 Used to Describe Joe Biden During VP Debate; RNC Issues Ad
GOP Committee Publishes Video of Vice President 'Laughing at the Issues' on YouTube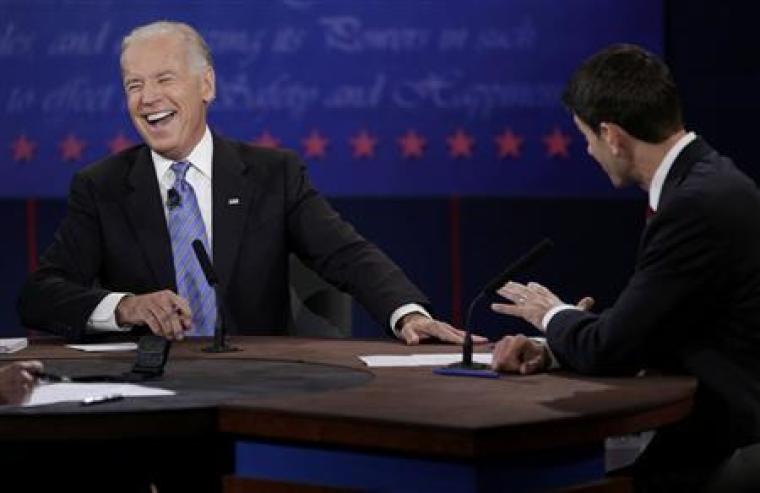 One Twitter trend that might have gone under the radar during last night's vice presidential debate between Joe Biden and GOP Congressman Paul Ryan was viewers' reaction to President Obama's running-mate constantly smirking, chuckling and interrupting his rival – so much so, that many were reminded of Proverbs 29:9, which speaks of a "wise man" and a "fool."
Proverbs 29:9 reads in the NIV: "If a wise man goes to court with a fool, the fool rages and scoffs, and there is no peace." The biblical verse was noted numerous times on Twitter last night as Americans tuned into the debate at Centre College in Danville, Ky. It's not immediately clear who started the trend, but a Twitter user calling herself "Jesus lover" seems to have been among the first commenters to link Proverbs 29:9 to the vice presidential debate.
At about 57 minutes into Thursday night's debate, Amber Vanderslice (@amberviolin), shared with her 138 Twitter followers: "'When a wise man has a controversy w/ a foolish man, The foolish man either rages or laughs, and there is no rest.' - Proverbs 29:9 #VPDebate."
Apparently viewers found it annoying and disrespectful the frequency with which 69-year-old Biden interrupted Ryan, 42, and his laughing responses.
As The Weekly Standard notes in an articled titled "Biden Bombed": "You don't win a nationally televised debate by being rude and obnoxious. You don't win by interrupting your opponent time after time after time or by being a blowhard. You don't win with facial expressions, especially smirks or fake laughs, or by pretending to be utterly exasperated with what your opponent is saying."
The sentiment seemed to be so widespread that the Republican National Committee released an ad using footage of the debate to criticize Biden.
The video, titled "Laughing at the Issues", shows in split-screen the vice president smirking and laughing in response to Ryan's comments on unemployment, the loss of American lives in Libya, Iran's nuclear program and numerous other issues.
The "Laughing at the Issues" ad underscores the puzzlement some viewers had in regard to Biden's constant grin, with the RNC writing in the description of the video: "Vice President Biden is laughing... are you? At the 2012 Vice Presidential debate, Vice President Biden spent 90 minutes laughing and rolling his eyes to try and distract from his inability to defend the last four years and provide a vision for the next four."
Many of the nearly 3,300 comments on the RNC video seemed to agree that Biden's aggressive posturing may have been a bit overboard and worked against he and President Obama's campaign.
"This is a video everyone should watch, Biden took his debate tactics a little overboard with this one. I can understand making the younger less experienced candidate feel inferior by smirking or laughing at opposing points but cracking up at important issues that are neither funny or a joke is taking it too far. Biden is the joke that we all are laughing at," wrote a user named "dubcdub1000".
Not everyone was in agreement, however, with one viewer named "TheDownald" coming to Biden's defense.
"You realize he can't stop laughing because Ryan hasn't told a single truth during the entire debate. Ryan looked completely horrible as a leader. His points were the same points they've been making the entire time and have been proven time and time again to be complete falsehoods. I honestly couldn't stop laughing either because it's comical to go on air in front of millions of people and feed them complete (expletive). Biden called him on everything and Ryan looked like a scared little boy."
According to Twitter, 4 million tweets were sent out about Thursday night's VP debate, with 3.5 million tweets occurring during the entire 92-minute event.