Biden Shows Up Swinging Against Ryan, But Did He Help Obama?
Vice President Joe Biden's aggressive – some call it smirking – performance in last night's VP debate against Paul Ryan seemed to re-invigorate President Barack Obama's supporters, but the verdict is out this morning on whether it helped the Democratic cause with the few independent voters who remain undecided.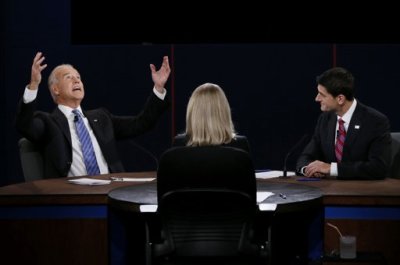 Biden squared off against Republican vice presidential nominee Congressman Ryan Thursday night in Danville, Ky, where the candidates discussed various foreign and domestic policy issues, and managed to present a clear view of what President Barack Obama and GOP candidate Mitt Romney have to offer the American people. As most pundits noted, however, there was a clear contrast in the demeanor of the VP candidates. Ryan remained calm and assertive, while Biden was energetic and passionate, cutting off his Republican opponent several times and smirking throughout much of the debate, dismissing his rival's points as "malarkey" and "a bunch of stuff."
Unlike last week's presidential debate, where critics heavily favored Romney as the winner of the night, the VP debate had commentators divided.
The Daily Beast summed up: "Stylistically, Biden was hot, maybe too hot. Republicans claim he interrupted Ryan 82 times. And argue that his repeated smirking and shaking of his head came off as condescending.
"Ryan did a good job of not losing his cool under steady heat and fire. And was in solid command of policy on both foreign and domestic policy.
"And Biden was a passionate defender of his boss and wasn't shy about taking the offensive to point out where and when he thought Ryan and Romney are wrong."
The Weekly Standard wrote in a piece titled "Biden Bombed" that "You don't win a nationally televised debate by being rude and obnoxious. You don't win by interrupting your opponent time after time after time or by being a blowhard. You don't win with facial expressions, especially smirks or fake laughs, or by pretending to be utterly exasperated with what your opponent is saying."
CNN's Gloria Borger agreed that Biden's constant laughing and smirking did not do him many favors.
"He was condescending at times to Paul Ryan. I think I could have done with a lot less eye-rolling and chuckling on the part of Joe Biden," Borger said.
"President Obama in his debate with Gov. Romney seemed to be missing in action. Vice President Joe Biden should have been. He was rude, talked non-stop and did nothing to further the discussion in a serious way. He was like a Cheshire cat with his inappropriate smile, and it was like a political speech without anybody else in the dialogue," wrote Ed Rollins, Fox News contributor, Republican strategist and former Huckabee presidential campaign manager
The New York Times noted, however, that Ryan was often unable to point out specifics when asked questions by moderator Martha Raddatz of ABC News.
"In contrast to the dismal meeting last week between President Obama and Mitt Romney, this debate gave voters a chance to evaluate the positions of the two tickets, in part because Representative Paul Ryan's nonanswers were accurate reflections of his campaign," The Times wrote.
"Vice President Joseph Biden Jr. would not sit still for a parade of misleading and often blatantly untruthful descriptions of the state of the economy and the Republican prescriptions for it. Though his grins and head-shakes were often distracting, he did not hesitate to interrupt and demand an end to 'malarkey.'"
Ryan had pointed out that there was near 10 percent unemployment in Scranton, Pa., Biden's hometown, and claimed, "That's how it's going all around America." The vice president was quick to refute him by suggesting the congressman doesn't read the statistics, referring to the national jobless rate that fell to 7.8 percent last month, the lowest it has been in years.
The Mail Online focused on some of the foreign policy topics discussed by Ryan and Biden – suggesting that Biden got it wrong when addressing the Sept. 11, 2012 attacks on the U.S. consulate in Libya, where Ambassador Christopher Stevens and three other Americans were killed by Islamic attackers.
When asked directly by Raddatz why there wasn't more security at the embassy, and why the White House initially and falsely believed the protests were about a YouTube anti-Islam movie, Biden said: "Because that was exactly what we were told by the intelligence community."
As for the lack of security, he said: 'Well, we weren't told they wanted more security there. We did not know they wanted more security again."
The Mail argued against this claim, however, noting: "There is ample evidence that this was not the case. ... That is directly contradicted by testimony from two State Department officials this week. Eric Nordstrom, expressed frustration at how his appeals for more resources were rebuffed.
"Lt. Col. Andrew Wood, former head of a 16-member U.S. military team that helped protect the embassy in Tripoli, testified: 'We were fighting a losing battle. We couldn't even keep what we had. There were requests for extra security; those requests were not honored.'"
The Guardian wrote that Biden "dominated" the debate and gave a hopeful performance for Democrats, but had "risked alienating undecided voters."
"Biden's combative approach in Danville, Kentucky, went some way towards undoing the damage done by Barack Obama's listless performance last week, scoring point after point against Ryan in a 90-minute debate dominated by foreign issues such as Iran, Afghanistan and Syria and domestic issues including tax and the deficit," The Guardian wrote.
"But his demeanor may have proved divisive as he repeatedly dismissed Ryan, talked over him, interrupted, laughed and at one point sighed, 'Oh God'"
The next debate will return the spotlight to candidate Romney and President Obama, and the two will discuss both domestic and foreign policy issues at a town-hall style meeting at Hofstra University in Hempstead, N.Y., next Tuesday.
Complete Vice Presidential Debate 2012: Joe Biden vs. Paul Ryan - Oct 11, 2012 - Elections 2012