'Pulling Back the Shades' Authors Claim 'Fifty Shades' Series Has 'Satanic Agenda' (Part 1)
Dannah Gresh and Julie Slattery Write Exposé on Dangers of Erotica Books, Popular Among Christian Women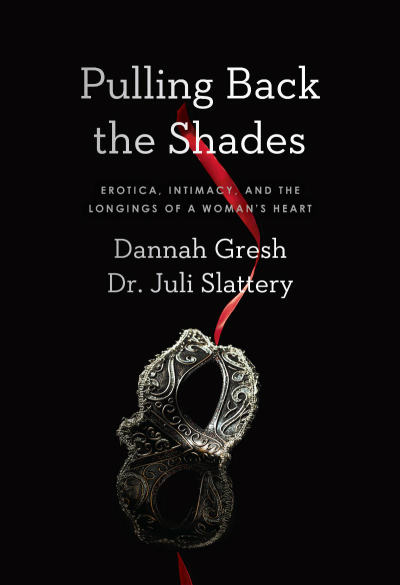 The popularity of the Fifty Shades series among Christian women has prompted Dannah Gresh, best-selling author and co-founder of Pure Freedom, and Dr. Juli Slattery, a clinical psychologist who leads Authentic Intimacy, to expose what they believe are the dangers of consuming such pornographic material. In an interview with CP about their new book, Pulling Back the Shades: Erotica, Intimacy, and the Longings of a Woman's Heart, Gresh and Slattery also highlight what they believe are "satanic" aspects of E.L. James' erotica series.
Gresh, who promotes chastity among young girls through Pure Freedom and heads the "Secret Keeper Girl" tour, told The Christian Post that she found it "sad" that E.L. James' Fifty Shades series, centered on the violence- and sexually-fueled relationship of the main characters Anastasia "Ana" Steele and Christian Grey, had found a home among Christian women.
"I'm sad because the book honors and glorifies bondage, dominance, sadism and masochism [or BDSM sex play]," added Gresh. She believes that Fifty Shades of Grey "and the normalization of erotica that's resulting from it will have the same impact on the Church as the advent of Internet pornography and men using it 20 years ago."
Slattery agreed, stating, "You've always had erotica and pornography available, but in the last 25 years we've seen men just by the millions get hooked on Internet pornography, and now this is showing that it's become normal for women to engage in this form of pornography. It's very alarming to just see that there's no discernment and there's not an outcry."
Below is a transcript of CP's phone interview with Gresh and Slattery. It has been edited for clarity.
CP: Is there a double-standard, do you think, or less weight placed on the possible negative aspects of women consuming erotica and romance novels and men who consume pornography? If so, why do you think that is?
Gresh: First of all, let's make a distinction between romance novels and erotica. A romance novel probably, [on] a scale of how appropriate or inappropriate it may be for a Christian woman to read, there are probably romance novels that are not appropriate for Christian women. But then there are romance novels, like Francine Rivers' Redeeming Love … some that in moderation, they're healthy and give you perspective on not just romance and relationships but God. But erotica is a very different genre.
Slattery: There [are] romance stories even in the Bible. "Song of Solomon," the story of Ruth and Boaz, so there's nothing wrong with romance, as Dannah said. Erotica is when the romance includes very descriptive sexual acts, and it is pornography in written form. When you read it, your mind will create the images.
Your question about is there a double standard — I think to some degree there really is. A woman would be outraged to be sitting on an airplane by a man who has a laptop and is looking at pornography. She won't be upset to get out her Fifty Shades of Grey or a book like it and read it right out there in the public.
Gresh: On the same token, Christian Grey, the male figure in the book, is being ... glamorized and women, their hearts are palpitating for this fictional character. If men responded that way to porn stars that they're watching, we would find that repulsive as women.
CP: Dannah, why did you choose not to read Fifty Shades of Grey, despite wanting to take on the issues it raises?
Gresh: When the book first released, I really kind of thought to myself that Christian women wouldn't fall for this, so I didn't really think it was necessary for me to be involved in the dialogue. But it became very quickly apparent that Christian women were reading it. So I simply wrote a blog that said, "I'm not reading Fifty Shades of Grey." In part, what I wanted to do is send a message that it's OK for us to be discerning about something without having experienced it. I don't have to walk in front of an 18-wheeler to know that I don't want to do that. It's gonna hurt.
I've worked long enough in the field of sexual counseling and healing that I know that erotica and porn are very destructive. So I wouldn't ever do that to my marriage. I wouldn't read erotica or expose myself intentionally to pornography because I know it can be harmful to a relationship that I treasure and love. At the same time, because I've seen the impact of it, I know what it does, the research tells me what it does. I want to send a message to women out there who maybe like me haven't read Fifty Shades of Grey and their friends are reading it and they might feel like they can't be a part of the conversation. That's simply not true. I can offer intelligent thoughts on this wave of erotica just like other women who've not read it.
CP: Juli, you read the entire trilogy. Can you share your thoughts going into the series, and maybe some of the things you dealt with?
Slattery: My thoughts in reading the trilogy were, "I don't want to! But I have to." To have a response to Fifty Shades one of us needed to be aware of the content that was in it more than just reading the summary. A lot of the women that would write us would say, "Well you don't understand, it's a love story. You have to read it to understand." So we really felt like one of us needed to know in detail what the content was.
I definitely went into that process of reading the books with fear and trembling and just asking the Lord to protect my mind and my heart. I had people praying for me while I was reading it. In the long run, I'm really glad I read it because I think what people aren't talking about, and I wouldn't have known if I hadn't read the books, was some of the underlying spiritual themes and agendas in Fifty Shades of Grey.
Everybody talks about the sex, and that is a huge concern. The sex is very kinky and very descriptive. But what no one had mentioned to me before was that there's a lot of spiritual things happening. I would even go so far as to say there's a Satanic agenda because of some of the ways that things that are sacred to us are violated. Some basic examples are, as Dannah mentioned, the main character being Christian, that's his name, and his mom's name being Grace. But there are other spiritual elements that we talk about in Pulling Back the Shades where a wooden cross, and hymns and Scripture are used throughout the trilogy in a way that just drags Christianity and everything that's sacred through the mud. I wouldn't' have known that if I hadn't read the trilogy, and I'm glad I'm done reading it.