Putin claims West trying to destroy the family institution by normalizing gay marriage, 'pedophilia'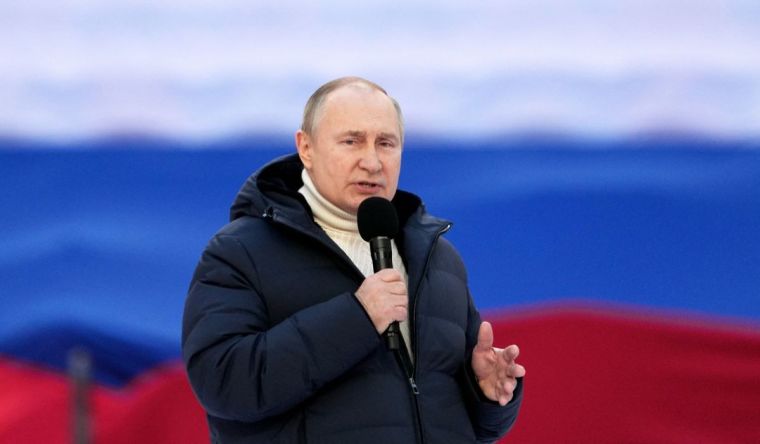 Russian President Vladimir Putin issued a stark warning over what he called religious attacks from Western culture Tuesday as he suspended a landmark nuclear arms treaty and threatened to move forward with nuclear tests.
Rebuking what he described as "information attacks" from the West, Putin accused the United States of seeking to turn the war in Ukraine into a global conflict in his annual address to the Federal Assembly in Moscow.
In response to the West's actions, Putin said Russia will suspend its participation in the New START treaty, signed in 2010 during the Obama administration to limit the number of nuclear stockpiles of both the U.S. and Russia. Putin reiterated that Russia was suspending the treaty but not completely withdrawing from it. 
"The Western elite make no secret of their goal, which is, I quote, 'Russia's strategic defeat,'" Putin claimed.  
"However, they too realize it is impossible to defeat Russia on the battlefield and are conducting increasingly aggressive information attacks against us targeting primarily the younger generation."
Following the speech, U.S. Secretary of State blasted Putin's announcement as "deeply unfortunate and irresponsible." NATO Secretary-General Jens Stoltenberg urged Putin to reconsider, Reuters reported.
In his address, Putin leveled sharp criticism at Western values and said the U.S. and other Western nations were using "information attacks" to target youth, distort "historical truth," and "attack our culture, the Russian Orthodox Church and other traditional religious institutions in our country."
Putin appeared to suggest the advancement of same-sex marriage and other rights for LGBT-identified people are aimed at destroying the institution of the family and promoting pedophilia.
"Look at what they're doing with their own people," he said. "It is all about the destruction of the family, of cultural and national identity, perversion and abuse of children, including pedophilia, all of which are declared normal in their life."
As an illustration, Putin claimed priests are being forced to "bless same-sex marriages."
After asserting that "people can live however they want" and that Russia has "never intruded into people's private life," Putin cited the definition of marriage found in the scriptures.
"Look at the holy Scripture and the main books of other world religions. They say it all, including that family is the union of a man and a woman, but these sacred texts are now being questioned," Putin said.
Putin also cited a report stating the Anglican Church is considering the idea of a gender-neutral God, an apparent reference to a vote earlier this month by the Church of England to officially endorse plans for priests to offer prayers of blessing for same-sex couples.
"What can we say? God forgive them," he said. "They don't know what they're doing."
Although he claims priests are being forced to bless same-sex marriages, the Church of England's proposed plans to bless same-sex marriage grant priests autonomy not to bless same-sex marriages. The denomination's figurehead Archbishop of Canterbury Justin Welby says he doesn't plan to bless same-sex couples.  
Last month, an Orthodox denomination in Ukraine with historic ties to Moscow spoke out about the Ukrainian government's recent crackdown efforts targeting dozens of churches formerly affiliated with the Russian Orthodox Church.
Since the start of the Russian invasion of Ukraine in February 2022, hundreds of buildings have been forcibly converted from the Ukrainian Orthodox Church, which has long been affiliated with the Russian Orthodox Church, to the Orthodox Church of Ukraine, the Orthodox denomination based in Ukraine founded to be independent of Moscow. 
Religious freedom advocates in the U.S. have warned of threats to religious liberty in the Eastern European nation amid the crackdowns on Orthodox churches.
"We claim Ukraine's battle against Russia is a fight for democracy, but sending the army into monasteries is not promoting liberty," Hedieh Mirahmadi, a columnist for The Christian Post, wrote in December. 
"This latest move by our ally in Ukraine should be grounds for a loud outcry from Christians, regardless of where we stand on the political spectrum."