Rapper Craig Mack, Now a Christian, Testifies of Leaving 'Wickedness' for 'Righteousness' in Church Video
Family Reportedly Fears Former Bad Boy Artist Has Joined a Cult Led by Controversial Pastor
2 photos
(Photo: YouTube screen grab)
Craig Mack, formerly signed to Sean "Diddy" Comb's Bad Boy Records, has been worshipping at a South Carolina commune with conservative Pentecostal Christians, according to a recently surfaced video in which the Grammy-nominated recording artist and New Jersey native exuberantly shares his testimony.
The YouTube video, which has left some fans speechless, comes after speculation that Mack has been living a quiet life in Walterboro, S.C., at the Overcomer Ministry commune since leaving behind his celebrity lifestyle.
The video was published on YouTube in May 2012 by a user named "tlink1463," but surfaced this week after being highlighted on music blogs and entertainment news sites. User "tlink1463" claims in the comments section of the video page that he recorded the church service featuring Mack himself. He was also asked by a viewer in January of this year if Mack was still attending "these services," to which "tlink1463" replied: "Still here and going (strong)."
In the video, controversial Pastor Ralph Gordon Stair, otherwise known as Brother R.G. Stair and "the prophet," comments on speculation surrounding the whereabouts of the former Bad Boy rapper.
"Craig Mack, you know, when he first came around, he didn't want anybody to know where he was," Stair says to the congregation, while taking care to ensure his words are being recorded.
Stair, stumbling over the pronunciation of "Wikipedia" at various points, informs congregants that he had received an email from someone seeking to confirm Mack's presence at the Overcomer Ministry community.
"'Brother Stair, I saw on Wikipedia that Craig Mack has joined the Overcomer Ministry. Is that true?'" Stair quotes the email. "Well no, Craig Mack is dead. We have somebody that used to be Craig Mack, and he didn't join anything. God joined him."
To make sure his remarks won't be doubted, Stair invites Mack, 42, to "speak for himself."
Bouncing on his feet and fervently waving his hands in the air, Mack, wearing his trademark short afro says in his famous baritone voice, "My name is Craig Mack."
Mack, born in Trenton, N.J., and a former New York resident, says in response to Stair's questions that when he was in the world he used to do "wickedness" but was now "doing righteousness." He then breaks into more praise as other congregants applaud and wave their hands in the air.
Watch the video, titled "Craig Mack and His NEW RAP - The Video - See it LIVE!," below:
Mack, whose rap music career peaked in the '90s, is best known for his chart-topping and Platinum-certified single "Flava in Ya Ear" that was followed by a remix of the single featuring the Notorious B.I.G., Busta Rhymes, LL Cool J and Rampage.
Brother R.G. Stair and Overcomer Ministry
In 2012, gossip website MediaTakeOut reported on having allegedly spoken with members of Mack's family who were "very upset" at the possibility that the recording artist had joined a cult.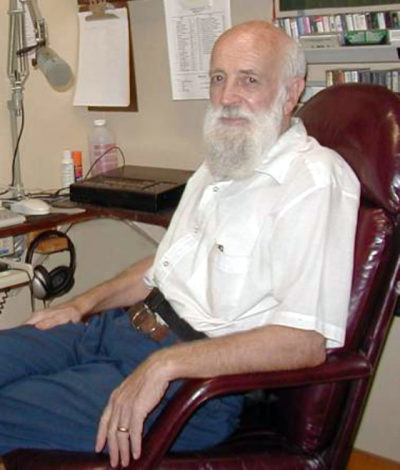 The gossip site also noted that Mack is among a list of former Bad Boy artists that have turned to religion after leaving Sean "Diddy" Combs's label, such as Mason "Mase" Betha, who still raps while serving as a Christian minister. Another recording artist, Moses Michael Levi (formerly Jamal "Shyne" Barrow), became an Hasidic Jew after completing a nine-year prison stint related to a shooting at a nightclub where Combs was present.
It was also alleged in various online reports that Overcomer Ministry's Brother Stair, 80, was a pedophile or had raped women involved with the ministry. The minister, originally ordained as a Methodist, pleaded guilty in 2002 to two counts of assault after charges of rape involving two women were dropped. Stair confessed that he had fondled them, although the women claimed the minister had used his position of authority to coerce them into sex dozens of times.
Stair, who refers to himself as "the prophet," runs a radio ministry and focuses heavily on eschatology, has also been accused of financial fraud by former members. Members of the ministry who take part in communal life are required to "give up all worldly desires and possessions." A news report from 2007 indicates that Stair was found guilty of misleading 11 former members on how their donations were being used. He was reportedly ordered to pay them $731,679 in damages.
A website named The Net Team that focuses on "exposing" Stair's teachings has numerous testimonies from those claiming to be former compound residents, ministry members and relatives of those who remain with Stair or were once affiliated with him. The testimonies are overrun with allegations that Stair is controlling and dishonest.
However, photos purportedly of commune residents on the Overcomer Ministry website show adults working to grow crops and smiling children at play — suggesting that Stair leads a self-sustaining and happy community bound by their Christian beliefs.
A brochure made available to the public by Overcomer Ministry states that the chief requirement for those seeking to join the community is to agree to be subject to "the man of God (Brother Stair)" who "shall have sole discretion to judge the legitimacy of need and to direct distribution to satisfy the need." They must also "acknowledge the right of the man of God to discipline and direct and correct residents who exhibit unbiblical behavior."
In response to an email request from CP for confirmation of Mack's presence at his church and more information about his ministry, Brother Stair only confirmed worshipping with the former rapper.
"Craig does at time attend, he lives in the area. He has nothing to tell about the ministry except that he at times come to church service," read the email attributed to Stair. "His business is his business."