Rare Leonardo da Vinci Portrait of Jesus Christ Makes History Selling for $450M at Auction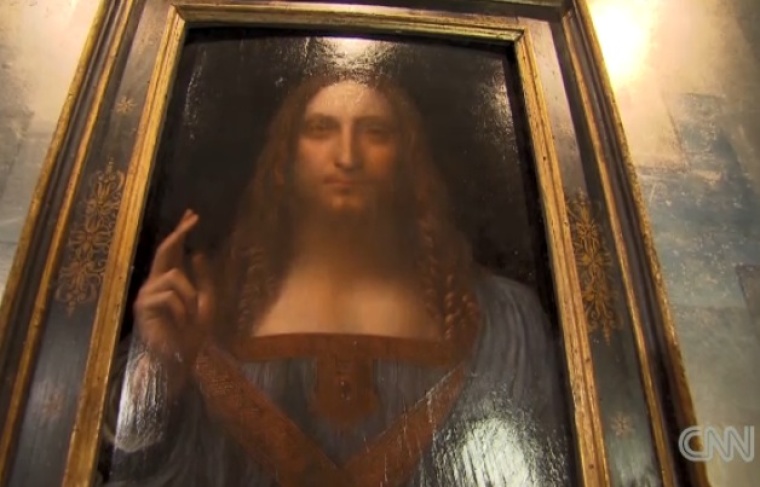 A 500-year-old painting of Jesus Christ believed to have been painted by Leonardo da Vinci was sold in a New York auction for a record-breaking $450 million.
The artwork sold at Christie's in New York on Wednesday has become the most expensive artwork to ever sell at an auction. The undisclosed buyer bid $400 million, making the total price $450.3 million after additional fees.
When announcing the artwork, the auctioneer called da Vinci's work a "masterpiece of Christ the Savior." He explained that it was once in possession of three Kings of England — King Charles I, King Charles II and King James II.
The bid started at $240 million and slowly climbed up. Soon after the $400 million bid came in, everyone in the room gasped and celebrated as they witnessed history.
The painting is known as Salvator Mundi (Saviour of the World). It shows the European version of Christ holding one hand up as a sign of blessing, while the other hand holds a glass sphere resembling the shape of the earth.
CNN said the Salvator Mundi was sold at an auction in London in 1958 for just $59 because it was dismissed as a copy.
According to various reports, it is assumed that it was painted in the1500s, and pegged "the only work thought to be in private hands." Da Vinci died in 1519 and there are currently less than 20 of his paintings in existence.
An expert in Old Master and 19th Century art, Dr. Tim Hunter, told the BBC that the painting is "the most important discovery in the 21st Century."
"It completely smashes the record for the last Old Masters painting to sell — Van Gogh's Sunflowers in 1988. Records get broken from time to time but not in this way. Da Vinci painted less than 20 oil paintings and many are unfinished so it's incredibly rare and we love that in art," he maintained.
Before the New York auction, the painting was the possession of Russian billionaire collector Dmitry E. Rybolovlev, who is reported to have bought it in a private sale in 2013 for $127.5 million.