Ravi Zacharias Responds to 'Why Are You So Afraid of Subjective Moral Reasoning?'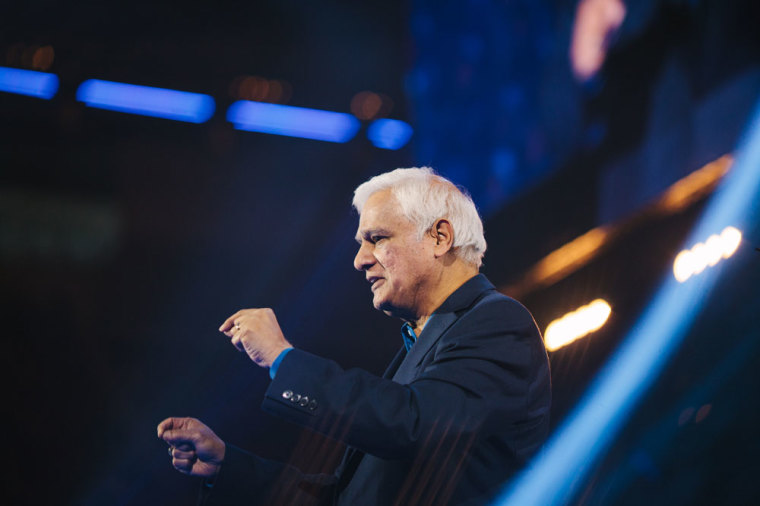 In a question and answer session after his talk, a student stood up to ask Ravi Zacharias, founder and president of Ravi Zacharias International Ministries, "Why are you so afraid of subjective moral reasoning?" The Christian apologist responded with the question, "Do you lock your door at night?"
The student asked if people would just start raping and killing each other if they didn't have a book to tell them what to do?
After asking the student if he locks his door at night, Zacharias said, "If we weren't afraid of this, we wouldn't be in a national debt."
But China is secular, and they're not raping and indulging in other crimes, the student interrupted, as seen in the video Zacharias posted on his Facebook page.
Zacharias looked surprised that the student mentioned China, and referred to the Red Guards rebellion, a fanaticized student mass paramilitary social movement mobilized by Mao Zedong in 1966 and 1967 during China's Cultural Revolution. He also mentioned the Boxer Rebellion, a violent anti-foreign and anti-Christian uprising which took place in China towards the end of the Qing dynasty between 1899 and 1901.
"Do you know who has killed more people in the 20th century than China and Russia?" Zacharias asked the student, and said, secular China and Russia killed 60 million people a piece during the 20th century. "The 20th century became the bloodiest century in history. And the reason it became the bloodiest century is … the weapons of our wars were piling up and there were no guiding principles to take us anywhere."
"Now, in a perfect world, we don't need to be afraid," Zacharias added.
It's not about being afraid of subjective moral reasoning, "what I'm saying is it is basically unliveable," Zacharias went on to say, stressing that atheist French philosopher Jean Paul Sartre concluded it. "We killed more people in the 20th century than all the 19 centuries put together," he added.
He continued that if morality is purely subjective, then you have absolutely nothing for stopping anybody from doing anything, including things that might harm you.
Zacharias also mentioned Joseph Stalin, the leader of the Soviet Union. Stalin killed 15 million of his own people, he said. His daughter, Svetlana Stalin, described the last moments of her father's life, he said. As he lay dying, he sat up in bed, one more time, clenched his fist toward the Heavens and fell back on his pillow, and was gone.