Ray Comfort: Atheist Reason Rally Organizers 'Praying It Won't Rain'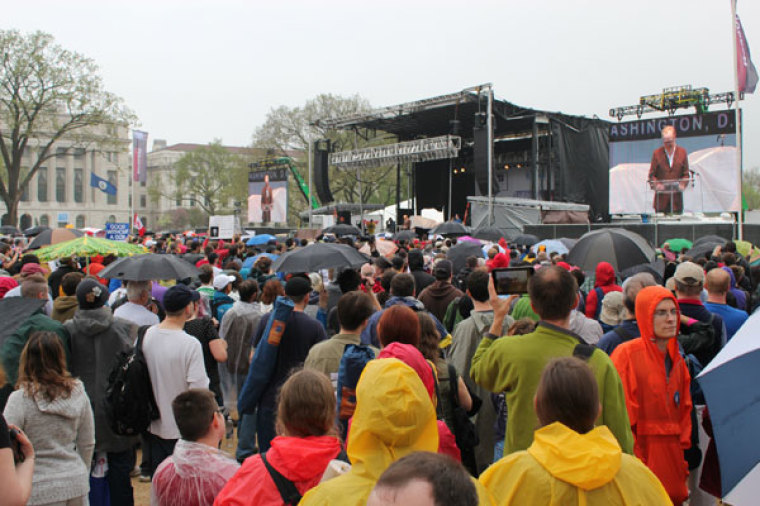 Evangelist Ray Comfort has quipped that even the organizers of the atheist Reason Rally in Washington D.C. are "praying" that it won't rain on Saturday.
"You can't tell me that the organizers of the atheist Reason Rally aren't praying that it won't rain on Saturday," Comfort wrote on Facebook, noting weather forecasts for the area predict there is a 50 percent chance of rain on Saturday.
Organizers of the rally are hoping that as many as 30,000 people will attend what is being billed as the largest secular gathering in America, which they have been promoting for months.
"Not only are we celebrating our secular, atheist, agnostic, humanist, freethinking, and nonreligious identities, we are preparing to exercise our power at the voting box to bring good sense back to government," the rally organizers have said.
Comfort had planned a major outreach event for the day, which would have seen as many as 1,000 Christian volunteers handing out close to $25,000 worth of Subway gift cards to the attendees, but those plans were canceled by Washington, D.C. police.
The evangelist explained in a statement that police told him that the outreach "constituted a protest and therefore we needed a permit to gather. We would have to stay at the other end of the National Mall, and they said that if we persisted to approach atheists to speak with them we would be arrested."
He later said that the gift cards will now be given to homeless people, and reflected: "To authorities, Christians and atheists are enemies. So they want to keep us apart for the sake of peace, especially with more serious threats facing America. That's understandable. But at the same time I'm a little frustrated because I have a very good relationship with atheists."
In a Facebook exchange regarding the merits of engaging in social media outreach to unbelievers, Comfort indicated that he will continue his efforts, and even promised a "surprise."
"The Atheist Central page has 2,528 followers (reach 10,000 each week). Not many, but I suspect most of them are atheists. I would estimate that 10 percent post comments. It's similar to the average open air preaching session, where there are a few nasty hecklers. Some Christians say not to cast my pearls before swine, forgetting that there is a crowd of 100 people who are listening to the Gospel," Comfort responded.
"They are the ones to whom I'm speaking. Same with Atheist Central. So I always keep in mind the silent 2,000 on the page who are thinking about what they hear. Heaven rejoices over one that comes to repentance. Also, I want even the nasty atheists to stay for a while. I have a surprise for them."